Portsmouth Police Investigation Centre 'On Schedule'
11 June 2018, 11:25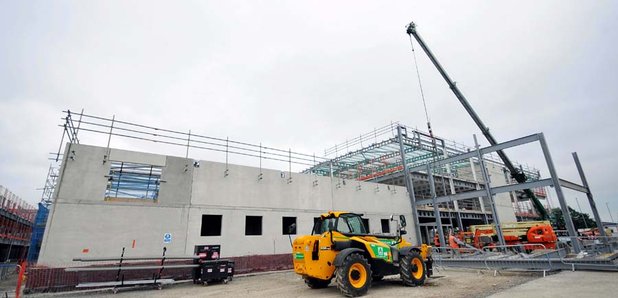 Hampshire Police say a new Investigation Centre in Portsmouth is 'on time and on budget'.
The core of the multi-million pound building in Copnor has been finished. It'll house 430 staff and have custody cells.
A Topping Out ceremony was attended by the Police and Crime Commissioner, the Chief Constable of Hampshire Constabulary and hosted by Mace, the contractors.
It is scheduled to be operational by summer 2019.
Michael Lane, Police and Crime Commissioner said:
"I am delighted to be here today to mark this important milestone in the construction of the Police Investigation Centre. Everybody involved in the partnership to ensure this important building is completed has my support. I'm delighted that we are on time and on budget.
"This new centre will integrate an investigation hub and custody suite in facilities that are fit for the future. It will lead to more efficient processing and investigation of detainees and will return arresting officers back to policing in their local communities more quickly.
"It will contribute to modern, operationally effective policing that will support the community in helping to keep us all safer.
"This is a really important day for those who are constructing the Police Investigation Centre and for us all. I would like to congratulate the team who have got us to this point. I am very much looking forward to the centre opening in 2019."
Olivia Pinkney, Chief Constable said:
"This is such a huge deal operationally, and for the hundreds of officers and staff who are really excited about being here. I know that it will make a vast difference to them, to the effectiveness of what they do, and to their productivity and how they feel.
"More importantly it's going to be brilliant for the people that we serve in the east of Hampshire and in Portsmouth. The people who are victims of crime, who are witnesses, those who are coming into our care in custody. This will be a much better experience for them, and that's what matters."
Terry Spraggett, Director of Public Sector Construction for Mace, said:
"It seems only a short time ago that we were here to celebrate the ground breaking of this project. I would like to say thank you very much indeed to everybody involved to date – it's been a great project to work on. We've built a great collaborative working relationship with Hampshire Constabulary, and I look forward to building on that in the future."