Taxi Driver Admits Glasgow Shopkeeper Murder
7 July 2016, 14:46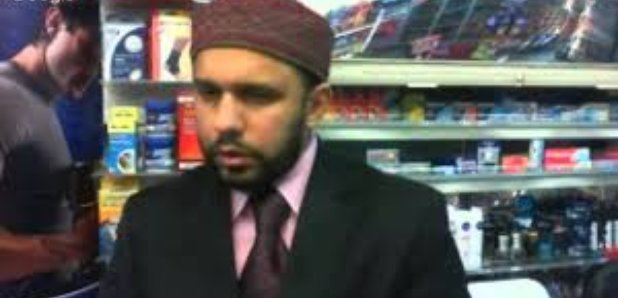 A Muslim taxi driver has admitted murdering a shopkeeper who claimed to be a prophet in messages he posted on social media.
Tanveer Ahmed, 32, travelled from Yorkshire to Glasgow and confronted Asad Shah at his store counter before pulling out a knife and stabbing the 40-year-old.
Ahmed, who did not know the shopkeeper, claimed to have been offended by clips Mr Shah posted online which the Bradford father-of-three said "disrespected the Prophet Muhammad''.
Popular businessman Mr Shah, described as a "pillar of the community'', suffered multiple wounds in the attack at his store in the Shawlands area of the city on March 24.
CCTV footage of the murder was shown to Lady Rae at the High Court in Glasgow, who condemned the "despicable'' crime.
The judge told Ahmed: "There's no justification whatsoever for what you did.''
The court heard he watched an interview with Mr Shah on his mobile phone as he travelled to Glasgow and was heard in a phone message to say "listen to this guy, something needs to be done, it needs nipped in the bud''.
When he arrived at the shop, Ahmed said he warned the shopkeeper he was there to kill him and asked him to stop claiming to be a prophet.
Mr Shah's brother, who is a personal trainer, and a shop assistant tried to fend Ahmed off as he launched his attack.
The killer, who was not found to suffer from any mental disorder, said afterwards: "If I had not done this others would have and there would be more killings and violence in the world.''
Members of Mr Shah's family, who moved from Pakistan to Scotland in the 1990s to escape persecution, did not attend the court hearing due to fears for their personal safety.
They belong to the Ahmadi sect of Islam whose beliefs differ from the majority of Muslims, prosecutors said.
The court heard their belief that Prophet Muhammad was not the final prophet was a view many consider blasphemous.
Police examined messages and clips posted by Mr Shah on Facebook and YouTube "and there appears to be little doubt that he was claiming to be a messenger of God and a prophet'', the Crown said.
Ahmed said he was not motivated by malice towards Ahmadi Muslims as a group, but by his offence at Mr Shah's comments.
However, a victim statement from the shopkeeper's family - his wife, parents and six siblings - said they could no longer live normal lives and some intend to leave Scotland.
His parents said: "We brought our children to this country to seek refuge from Pakistan in 1991 fleeing persecution, religious hatred, discrimination and a danger to our lives because we were Ahmadis.
"We never thought that we could be in danger here.
"We feel imprisoned by our pain and suffering and we have little hope of ever having a normal life again.
"Most of the family, unable to live with this turmoil, pain and fear, has taken a decision to leave Scotland forever.''
Ahmed will return to court for sentencing on August 9.
Police Scotland said crimes of this type are rare in the country's diverse communities which typically enjoy a "proud tradition of unity, tolerance and understanding''.
Assistant Chief Constable Steve Johnson said: "Asad Shah was a peaceful family man, a hard-working businessman and well-loved member of the Glasgow community.
"His death in such terrible circumstances impacted on those closest to him as well as communities throughout the country.
"There is a consensus across all of our communities that there is no place in Scotland for religious or cultural intolerance which generates crimes of hatred, intimidation or violence.
"Religious or cultural beliefs, no matter how strongly held, do not entitle anyone to commit murder or acts of aggression.''
Detective Chief Inspector Jim Smith added: "I would pay tribute to the witnesses who spoke of the events of that night. A number of them went to Mr Shah's assistance but the swift and ferocious nature of the attack meant there was little they could do to save him.
"Ahmed's compliance in the immediate aftermath of the attack was in stark contrast to the level of violence shown during the confrontation.''