SNP urges Theresa May to do more to tackle Russian money laundering
18 March 2018, 12:30 | Updated: 18 March 2018, 12:38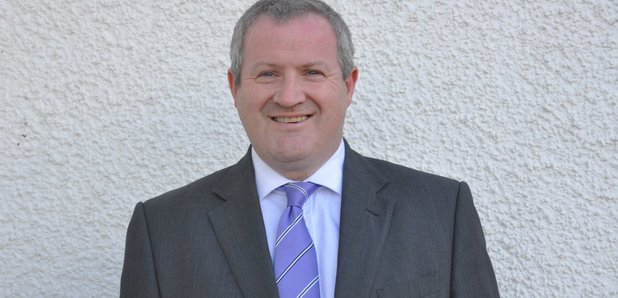 The SNP's Westminster leader has called on Theresa May to impose tougher financial sanctions on Russia. including steps to tackle money laundering in the UK.
Ian Blackford said the actions of Russia in relation to the Salisbury poisoning amounted to "state terrorism" and that he believed harder financial punishments would help change Vladimir Putin's behaviour.

Speaking on Peston on Sunday, he said: "We have to recognise that what has happened here is, in effect, state terrorism on the streets of the United Kingdom.

"We have to make it very clear to Russia that this is not acceptable, that there has to be a change in behaviour."

The MP called to "hit the Kremlin in the pocket" and prevent "stolen money from Russia being laundered through the United Kingdom or elsewhere".

He added: "I think what Putin has to do is to change his behaviour. Through pressure, and I think that through the financial sanctions, then it will be possible to do that.

"We need to think about the people in Russia that have suffered from Putin, we need to think about the human-rights abuses that are taking place in Russia.

"We couldn't be having this conversation if we were on Russian television and we should remember that."

Questioned on former SNP leader Alex Salmond's continuation of his show on the Russian broadcaster RT, Mr Blackford said: "I personally wouldn't go on it, I wouldn't encourage people to go on it but what Alex does is his own business."

In a letter to the Prime Minister, Mr Blackford reiterated his support for the UK's actions against Russia to date and called for tougher moves.

He urged Mrs May to clarify what actions she will take to tackle Russian money laundering.

He wrote: "Given your response to the events of the past weeks, I hope you would agree with me that it is now the right time to take serious and tough action on this issue, and that any measures the UK Government seeks to take against Russia must include actions taken to tackle any money laundering activity in the UK.

"I would, therefore, be extremely grateful if you would meet with me, and, in addition, I would urge you to call a joint meeting of all political parties to discuss this matter further and help to bring an end to this practice."

He added: "The UK Government must now go further on tackling money laundering, introducing effective Magnitsky legislation and tackling the use of Scottish Limited Partnerships by Russia to funnel millions of pounds."