M&D's Tsunami Victim Thought She'd Die
27 June 2016, 13:13 | Updated: 27 June 2016, 13:18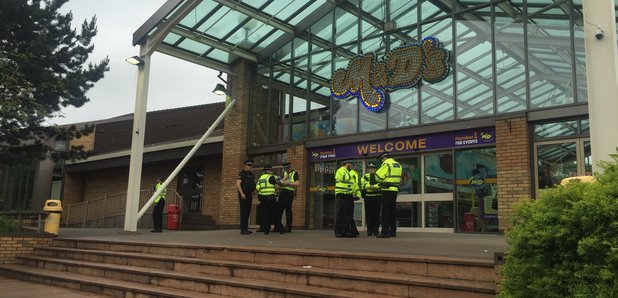 A teenager hurt when a theme park rollercoaster crashed 20ft off its tracks has said she thought she was going to die.
Katie McArdle was among 10 people taken to hospital after the Tsunami ride derailed and hit the ground at M&D's amusement park at Strathclyde Country Park, Motherwell, North Lanarkshire, on Sunday afternoon.
Three children are said to be in a serious condition in Glasgow's Royal Hospital for Children while four other youngsters and one adult are stable in Wishaw General Hospital.
Student Ms McArdle said on social media she was discharged with a reported broken wrist while her boyfriend is said to have dislocated his knee.
Writing on Facebook, the college student said: ``I have never been so scared in my entire life. Honestly thought I was going to die, sitting in that carriage upside down with everyone screaming.
"Turning round and not seeing William beside me was the worst.
"We are honestly so so lucky, there is definitely someone watching over us both. We are both still in shock and have a few injuries but just so lucky to be alive.''
She later added: "Most horrifying thing ever that I have been thinking that all day and it just shows you the damage it really has done physically, emotionally and mentally.''
The ride was full when it came off the track and police, firefighters and paramedics rushed to the scene as several visitors posted images on social media appearing to show a mangled carriage on a pathway surrounded by dozens of people.
Chief Inspector David Bruce said the Tsunami carriages fell about 20ft to the ground and police and the Health and Safety Executive are investigating the accident.
The grandfather of another victim praised doctors for saving his hand.
Thomas Campbell said Liam Boyle went through about eight hours of surgery.
Writing on Facebook, Mr Campbell said: "The good news is Liam's operation has been a success, they have saved his arm and hand, recovery will take a while but at least we know he's going to be alright, thanks for all the support much appreciated.''
Paul McFadden, who helped at the scene, is trying to raise money to buy Liam a new mobile phone that was damaged in the crash.
He wrote on Facebook: "Been in contact with his mum and hopefully Liam will have a full recovery, poor boy had his iPhone smashed so I'm going to help him get a new one.
"I will be setting up a page and I'm going to try and organise an event or a few that will give full proceeds to Liam and the rest of the people involved.''
According to the M&D's website, the Tsunami rollercoaster can go at speeds of up to 40mph through corkscrew turns and loops.
It is not the first time M&D's has had problems with its rides, including Tsunami.
In July 2011, nine passengers, including children, were stranded for more than eight hours when it came to a halt 60ft above the ground.
In March this year, eight people had to be rescued by firefighters in a cherry picker after the Tornado rollercoaster stopped working about 20ft off the ground.
A spokesman for the theme park's operators M&D's said: ''As a family-run business, our thoughts are with those who have been injured and their families. We wish everyone a full recovery.
''We are co-operating fully with Police Scotland and the Health and Safety Executive on their joint investigation to ascertain the cause of the accident.''