Callum Hawkins recovering from marathon heat collapse
15 April 2018, 12:18 | Updated: 15 April 2018, 12:20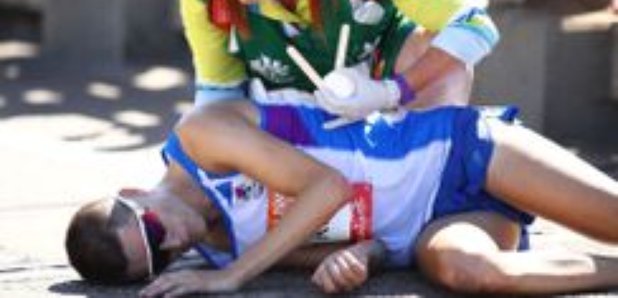 Callum Hawkins said he was feeling "much better" in a statement released from his hospital bed following his collapse towards the end of the men's marathon on Sunday.
The 25-year-old Scot fell while leading with a mile-and-a-half left and was struggling on the ground for several minutes in the heat before eventually being helped into an ambulance.
Hawkins, speaking from hospital, said: "Thanks for all your messages of support today and to the Gold Coast University Hospital staff. I am now feeling much better."
The Scotland team released a statement which revealed that Hawkins will be kept in hospital overnight as a precaution before follow-up checks by its medical team on Monday.
The statement read: "Team Scotland is pleased to confirm that Callum Hawkins continues to make a good recovery from the heat exhaustion and subsequent collapse he experienced during the Gold Coast 2018 Commonwealth Games Marathon today.
"He will remain in Gold Coast University Hospital overnight as a precaution and will be assessed again in the morning by our medical team."
Hawkins was visibly struggling before falling and banging his head against a barrier. Once he was on the ground, it took several minutes for medical help to arrive.
Team Scotland's statement continued: "Whilst Callum's recovery is our clear priority, we are still reviewing the circumstances of today's race with GOLDOC and the CGF to ensure the continued health and wellbeing of all athletes remains paramount.
"We would like to thank all the supporters and well-wishers, both here in Australia and back in Scotland for their messages of concern and best wishes having witnessed the distressing images today."
Scotland 400 metres hurdler Eilidh Doyle tweeted to say she was "heartbroken" for Hawkins and delighted for his team-mate Robbie Simpson who won the bronze medal.
BBC Sport commentator Steve Cram said it was "disgraceful" that it took so long for paramedics to attend to Hawkins.
In response GOLDOC confirmed medical staff were posted at 500 metre intervals in the final kilometres of the course with radio communications.
Mark Peters, GOLDOC chief executive, said: "I like many others was distressed to see a wonderful athlete like Callum collapse during the closing stages of today's marathon.
"GOLDOC has put in place a wide range of measures to ensure athlete welfare and the response of medical staff this morning was within agreed response guidelines and time frames."
Going into the final quarter of the race Hawkins, who finished fourth in the World Championships last year, was looking set to claim his first major medal.
He had a lead of 41 seconds before his fall, which denied him the chance of victory on the Gold Coast.
Hawkins had moved away from the pack and opened up a gap from Uganda's Munyo Solomon Mutai, who was initially behind him in second.
He passed the halfway point in one hour 07:44 minutes and was living up to his pre-race favourite tag before the drama.
Australia's Michael Shelley overtook Hawkins while he was on the ground to claim back-to-back Commonwealth titles.
Hawkins' Scotland team-mate Robbie Simpson took bronze behind Mutai.