Prince Harry Tours Leicester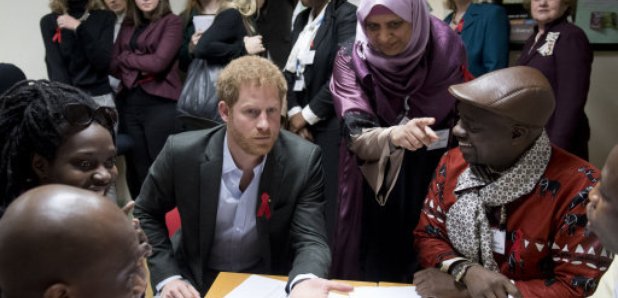 Prince Harry has followed in the footsteps of his late mother by dropping in on a charity helping those living with HIV.
During a day-long series of engagements in Leicester, Harry spent time chatting to service users, volunteers and trustees at the Leicestershire Aids Support Service (LASS).
After being shown photographs of the visit by Diana, Princess of Wales, to LASS in 1991, Harry unveiled a plaque paying tribute to its work over the past 30 years.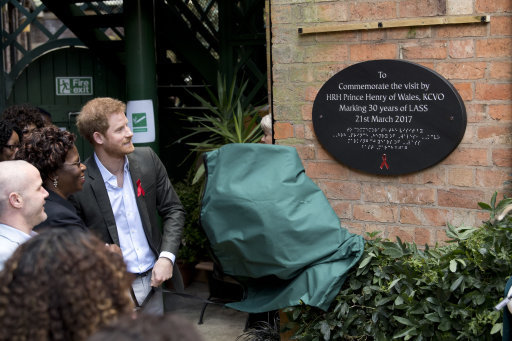 The 32-year-old royal began his day in Leicester by visiting the Yes You Can personal development project at Hamilton Community College, which aims to help under-performing Year 8 pupils reach their full potential.
Mentors aged between 16 and 25 work with Year 8 pupils who are under-performing or at risk from going off the rails by helping them to overcome barriers to learning, raising aspirations, and helping to close attainment gaps.
Harry watched as they took part in a word game.
VIDEO: Prince Harry's now playing a word game with older students from Hamilton Community College #Leicester #CapitalReports pic.twitter.com/Z0WHshwzEI

— CapitalEastMids News (@CapitalEMNews) March 21, 2017
Pupils from nearby Evington Valley Primary School were also there taking part in the 'I Have A Dream' programme – which empowers children to be resilient in achieving their ambitions as they transition to secondary school.
The youngsters were drawing posters to illustrate their hopes for the future - to stop war, poverty and save the NHS, and the prince seemed impressed by what he saw.
Admiring one group's handiwork he said: "You are the younger generation, you're the ones who are going to inherit the world we leave for you. We are doing our best not to leave it in a bad way."
He told another table that any one of the students could be Prime Minister adding: "If you had a dream to be in a position of authority then you could solve all of these problems in one."
VIDEO: Prince Harry is chatting to children at a #Leicester school about their dreams to stop war and end poverty #CapitalReports pic.twitter.com/5t5bOKap6X

— CapitalEastMids News (@CapitalEMNews) March 21, 2017

He also talked at length about their desires to protect the environment.
"Are electric or petrol cars better? Petrol? Hmmmm, I think electric is better," Harry said.
"What about cycling or electric cars then? Electrics cars are better. They are still quite expensive but all you guys, your first cars will be electric cars. Does that make you happy or sad? It should make you happy. Instead of a brum, brum, it's going to be a brrrr. In fact it wont even make a noise.
"What are the solutions? Put your rubbish in the bin, recycle plastic and stop the companies from making plastic in the first place."
Before he left Harry listened to a performance of the 'Yes You Can' song by the primary school pupils, smiling encouragingly when the children's nerves showed on stage.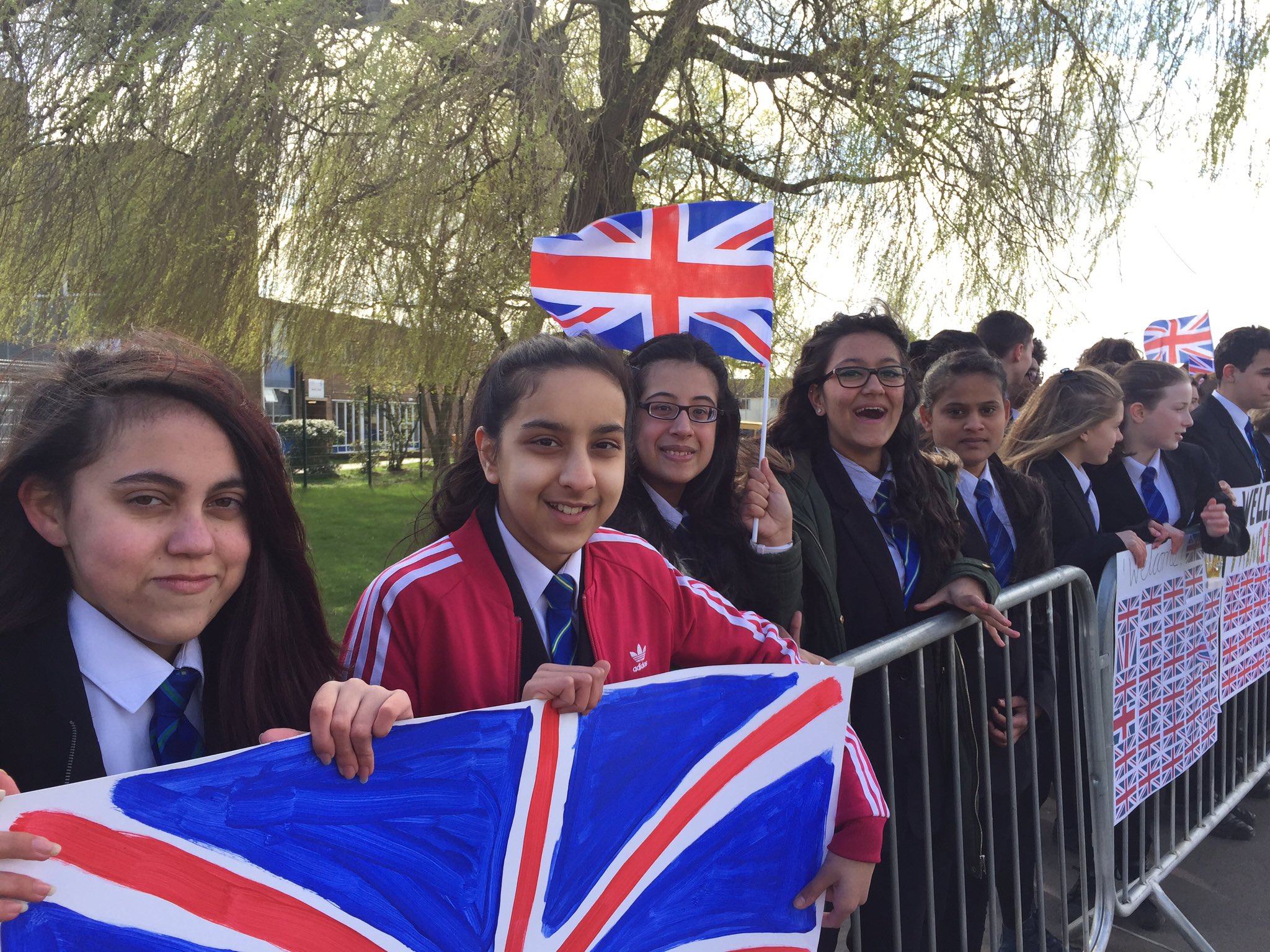 Then dozens of students who lined up outside the college for Prince Harry's departure got a royal handshake. They'd all made welcome signs for him that morning and sang and screamed as he waved goodbye.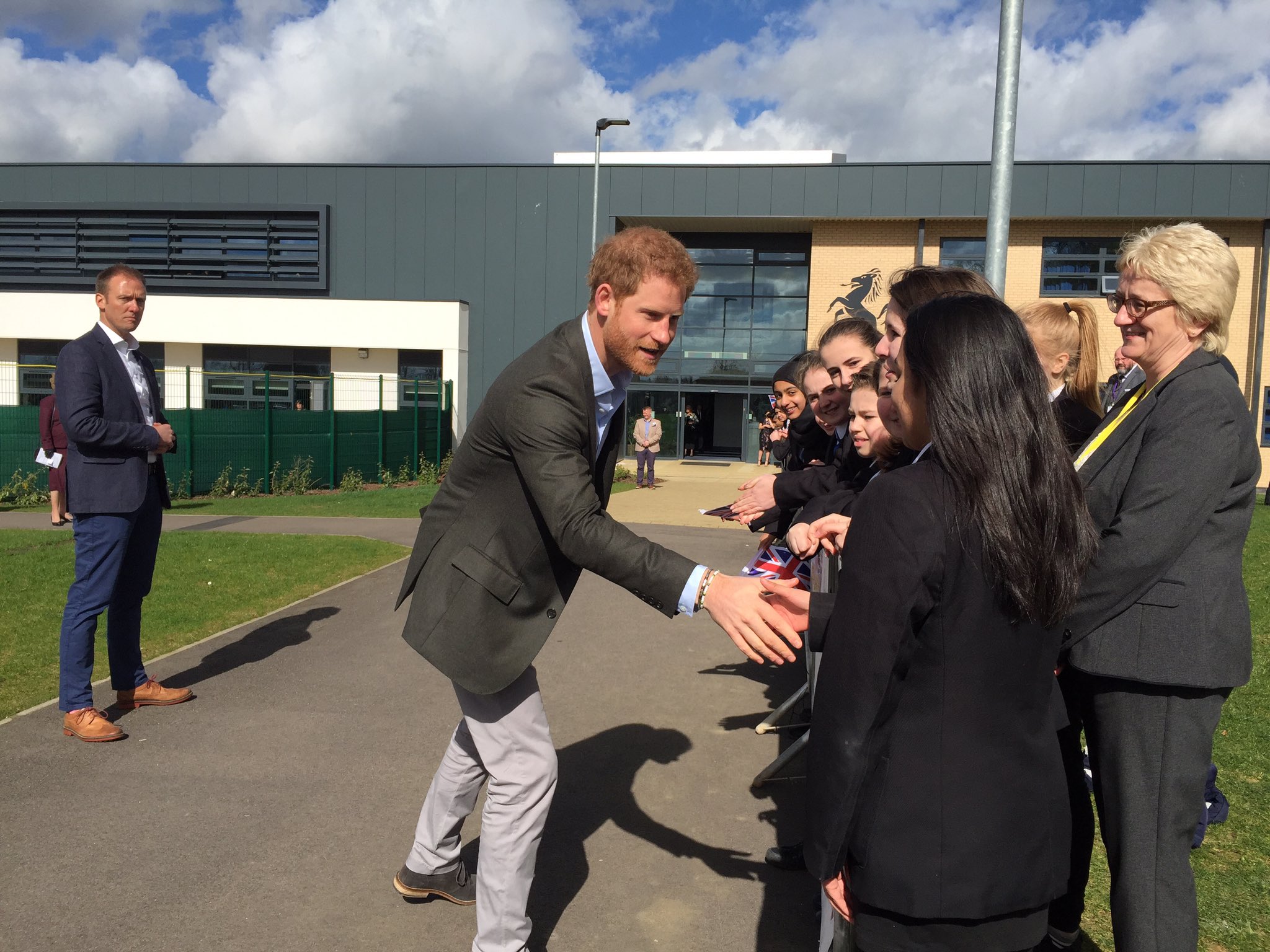 Harry then travelled to LASS, which provides information, advice, support and advocacy for people living with or affected by HIV, and raises awareness about the virus through training and workshops.
The charity, covering Rutland and Leicestershire, also works with others on tackling the stigma and discrimination faced daily by those living with HIV.
Among those who talked with Harry about the support centre's work was 33-year-old volunteer Amdani Juma.
Mr Juma, from Nottingham, said of the prince's visit: ``It is very important because he is someone who is really aware.
"He can bring the message and the breakthrough to where we cannot reach. Princess Diana was here in 1991 and to have Harry visit is very special, it's very emotional.
"We have done (HIV) testing in workplaces and we have made testing more accessible and more acceptable - and we plan to carry on doing this.
"It's a ground-breaking project because we are making stigma unacceptable.''
LASS trustee Evernice Tirvanhu, aged 53, helped Harry to unveil the plaque marking his visit.
"It's quite a special day for us,'' she said.
"People living with HIV have to fight a lot of stigma, and to find that members of the royal family are willing to come and support the charity is very encouraging.''