UPDATE: Wednesbury Road Flooded By Burst Water Main
26 April 2018, 18:17 | Updated: 26 April 2018, 18:22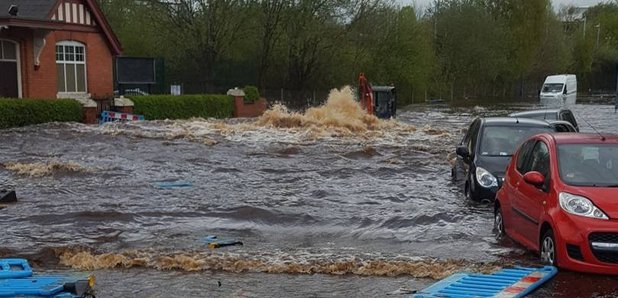 A man's believed to have suffered a broken wrist during flooding caused when an underground water main burst.
Several roads were closed off after the "significant" burst at Leabrook Road North in Wednesbury which was captured on video by witnesses.
Footage showed a deluge of high-pressure water pumping out of the ground and swamping the nearby road, which is in an area populated with businesses and homes, and lapping up against nearby parked cars.
The leak happened while workers were installing an electricity cable in the area, and a stranded mini digger was visible near the burst pipe.
A search of affected vehicles and properties was carried out by firefighters and specialist rescue teams, who said a male was being treated for a wrist injury after falling down a hole.
A woman also needed rescuing from one of the nearby homes.
Mark Hudson is the Station Commander for @SheldonFire - he said it could take another four hours to remove all the water from the area#WednesburyFlood pic.twitter.com/YAC6cjRG28

— Charlotte Winfield (@JournoCharlotte) April 26, 2018
A spokeswoman for South Staffordshire Water said a main pipe had been damaged by a third party, but that all customers were still on supply after water was re-routed from elsewhere in the network.
She said: "The emergency services have swept the area, and there's no risk to life.
"We are working as part of a multi-agency approach to clear the flood water.
"Once that has happened we can take a look to see what the damage is."
She added: "There is no customer off supply, everyone should have water, but there might be some discoloration."
A spokesman for Western Distribution Power said: "We are currently working in the area to install a new electricity cable.
"Unfortunately a water pipe has been damaged as part of this work."
He added: "We have isolated the electricity supply at the local substation on the request of the fire service. Currently 12 properties are without power.
"We will restore supplies once water levels have subsided."
There are currently 12 properties without power in #Wednesbury

Adelaide lives in one of the houses on Leabrook Road - she still doesn't know when she'll be able to get back into her house #WednesburyFlood pic.twitter.com/4NrxqGx3fB

— Charlotte Winfield (@JournoCharlotte) April 26, 2018
Electricity and water is now back up and running.