55 Arrested After Protesters Take Over Leamington Sikh Temple
11 September 2016, 18:19 | Updated: 11 September 2016, 18:54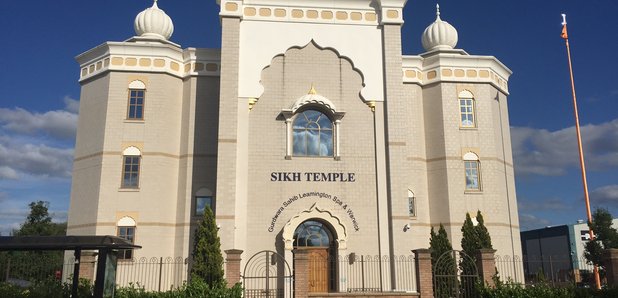 55 people have been arrested after protesters took over a Sikh temple in Leamington Spa in a row about interfaith marriages.
The fifty-five people have been arrested on suspicion of aggravated trespass after being held by police at the Gurdwara Temple on Tachbrook Drive, Leamington Spa.
Police were called to the Temple at 6.47am this morning after a reports group of men entered the building. The reports suggested the men were armed and armed police were called, although it's believed they were all carrying ceremonial daggers.
Superintendent David Gardner said: "We would like to reassure people that this was a contained incident that we believe was an escalation of a local dispute.
"A significant number of bladed weapons were seized from the scene. As a result of reports that the men were in possession of these weapons we deployed armed officers as a precaution. Nobody was injured in the incident.
"Over the coming days we will be working with local the Sikh community to address some of the ongoing issues that have culminated in today's events.
"We would like to thank local people for their patience while we dealt with this incident."
Earlier protesters told Heart that the row was over whether marriage ceremonies between a Sikh and non-Sikh was permitted in temples.
A group called Sikh Youth Birmingham posted a video claiming to be from inside the temple with placards saying "Stop violating Sikh principles for money"
The cordon has been lifted after 8 hours.