Lana Del Ray Threatens To Fight Azealia Banks In A Savage Twitter Feud
10 October 2018, 15:56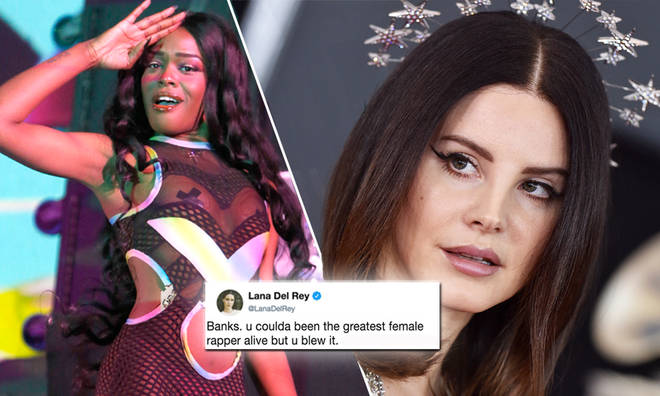 Another day, another person suffers the wrath of Azaelia Banks, only, Lana Del Ray was absolutely not prepared to take any of her Twitter shade and clapped her back with some pretty savage threats...
Azaelia Banks and Lana Del Ray are caught up in a nasty Twitter feud which has resulted in the 'Summertime Sadness' singer threatening to fight the '212' rapper and saying she's 'blown' her chances of being the greatest female rapper of all time.
Azealia Banks Reignites Her Feud With Troye Sivan, Demanding He Stop Talking About Her
The whole thing started when Azealia, who is known for starting beef with pretty much every celebrity on this planet, took issue with Lana calling out Kanye for his political stances, but quickly turned to criticising her appearance.
She called out the singer for having a 'Michael Jackson nose' and insinuated the star had an opioid addiction after having surgery, leading Lana to fire back threatening to 'f*ck up' the rapper.

@shopcheapyxo u know the addy. Pull up anytime. Say it to my face. But if I were you- I wouldn't.

— Lana Del Rey (@LanaDelRey) October 9, 2018
Things quickly turned nasty between the pair, who threw shots about each other's mental health, and Lana even challenged Azealia to come to her home, saying she 'knows her address' and joking that the rapper needs a 'new cocktail' of psych medication.
I'll send you my surgeon's number and a good psychiatrist I know in LA – your psych meds aren't working #uneedanewcocktail

— Lana Del Rey (@LanaDelRey) October 9, 2018
After Lana dropped her threat, Azealia immediately announced she was 'in contact with her lawyer', asking her followers if she should be 'extra' and sue the singer, something Lana definitely did not have time for...
Should I be extra white woman and sue Lana for threatening me? I thiiiiiink soo ! 😇

— CHEAPYXO (@SHOPCHEAPYXO) October 10, 2018
Tell him it's a promise not a threat

— Lana Del Rey (@LanaDelRey) October 10, 2018
In a pretty cynical turn of events, the rapper seemed to then confess she'd started the whole thing to get herself exposure, mocking Lana for 'falling' for her attempts to gain promotion, but it seems whatever friendship the two previously had is well and truly over, according to Lana's final message to her new enemy.
Banks. u coulda been the greatest female rapper alive but u blew it. dont take it out on the only person who had ur back.

— Lana Del Rey (@LanaDelRey) October 9, 2018
That will certainly drawn attention to this #CHEAPYXO account!! Hey cuties!!! Welcome to my soap shop! Azealia Sells Soap because Azealia Got Bars!!!

— CHEAPYXO (@SHOPCHEAPYXO) October 9, 2018
Sigh, showbiz can be a confusing place sometimes.
>Download Our Brand New App For All The Latest Lana Del Ray News