Jay-Z Talks About Daughter Blue Ivy Inspiring New Songs: "We Still Marvel At Her"
2 July 2013, 14:40 | Updated: 2 July 2013, 14:57
The '99 Problems' rapper continues to tease his latest album and talks about the "paranoia" of not being a great father.
Jay-Z has revealed that new songs on his next album 'Magna Carta Holy Grail' have been inspired by his daughter Blue Ivy.
The rapper posted a new teaser advert for the record over the weekend and admitted that his first child's inspiration is "most obvious" on a track called 'Jay-Z Blue'.
"[She's] something that we both created; we still marvel her," he tells Rick Rubin in the clip.
He also opens up about his relationship with his own father, as he continues: "My pop left when I was young, so he didn't teach me how to be a man, nor how to raise a child, or treat a woman.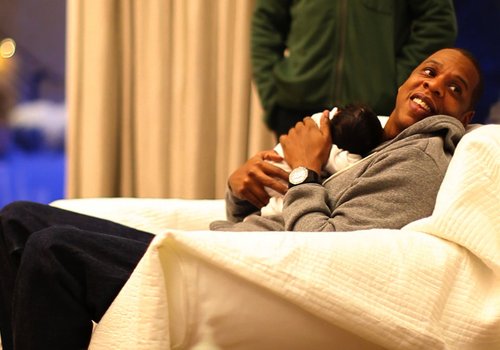 "So, of course, my karma, the two things I need, I don't have. And I have a daughter."
He adds: "It's the paranoia of not being a great dad."
Watch Jay-Z speaking about new song 'Jay-Z Blue' below:
Another video also sees him discussing the song 'Heaven' and how it can be located in his child's laughter and hell is that feeling of his daughter going missing for just three minutes.
"It's just not my belief that a just God would make you burn for eternity for [the] free will that he gave you," he adds.
Watch Jay-Z speaking about new song 'Heaven' below:
This week also saw the rapper unveil the official artwork for the record – which is released on 4th July exclusively through a new Samsung App.
Justin Timberlake, Beyonce, Frank Ocean and more all feature on the record.