Jay-Z Confirms Justin Timberlake Team-Up On New Album And Unveils 'Holy Grail' Lyrics
25 June 2013, 08:00 | Updated: 25 June 2013, 08:02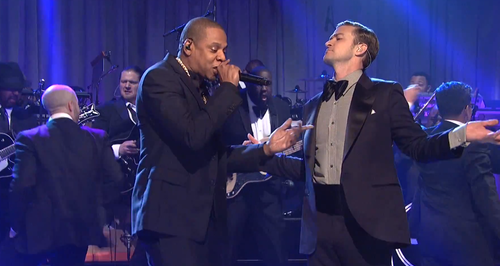 The 'Suit & Tie' stars team up once again for the rapper's forthcoming new record 'Magna Carta Holy Grail'.
Jay-Z has released the lyrics to a new song from his forthcoming album 'Magna Carta Holy Grail' – which features Justin Timberlake.
The pair most recently teamed up for 'Suit & Tie' from the singer's latest record 'The 20/20 Experience' and have now added another duet to their shared discography.
The rapper unveiled the full tracklisting for the record during a special scavenger hunt around New York, with fans finding binders containing the tracks.
As previously revealed, the new song features lyrics from Nirvana's 'Smells Like Teen Spirit'.
"And we all just Entertainers, And we're stupid, And contagious."
"It also contains the lines, "Nobody to blame, Kurt Cobain, I did it to myself."
The full lyrics were released on the Samsung App – which Jay is using to launch his new album.
Fans screen grabbed the words and posted them online, which you can view below: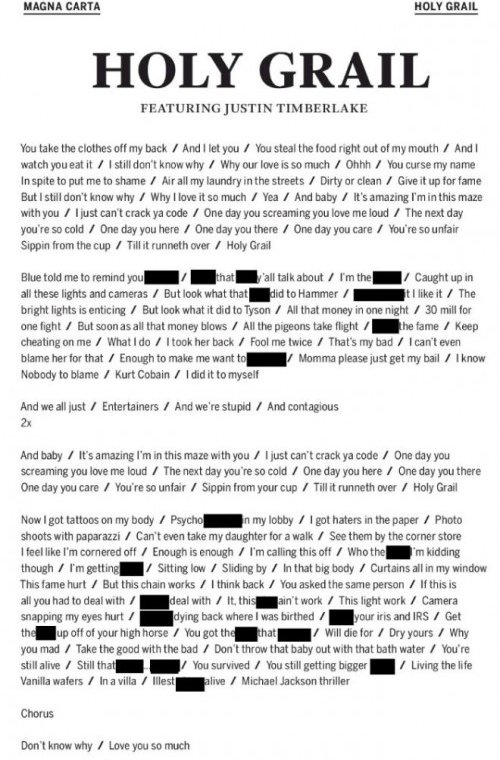 The album was first announced during a special commercial played out during the NBA championship finals.
Timbaland, Pharrell Williams and Rick Rubin are all confirmed to feature on the record – which is released on 4th July.
Meanwhile, Jay-Z and Justin will also be heading out on their 'Legends Of The Summer' world tour next month.