Iggy Azalea Reveals She's "Finished" With Her New Album - And Has A Message For The Haters!
2 December 2015, 10:34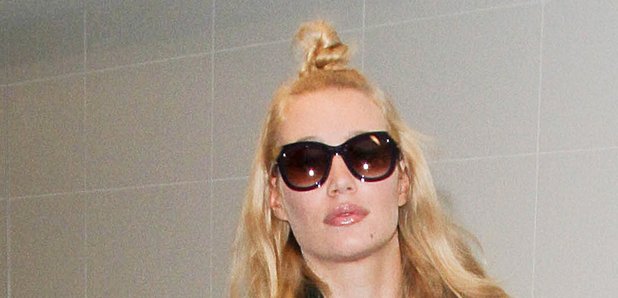 The rap star opens up on everything from her next single to fresh tour dates.
Iggy Azalea's in a straight talking kinda mood right now - as not only has she given a BIG update on the status of her album but she's got a strongly worded message for all the haters out there!
The Aussie rap star has been pretty quiet lately while working on some new tunes for us all, but took to Twitter last night (1st December) and let's just say… she wasn't holding back!
"We are days from 2016, but I came online today and saw it's still cool to try and discredit my 2014 accomplishments. LOL f*****g hell. Seems exhausting," Iggy tweeted out. "Anyway - I've been enjoying the holiday season and I hope you all have too."
But it's not ALL doom and gloom - as the 'Fancy' star gave us an update on her new album and admitted it's mostly finished from her end. EEEK!
"I don't really know what I'm doing with my music release, but I'm finished (except for getting the features recorded)," Iggy explained. "Right now I live in American and am very close to the Def Jam team, but I'm actually signed out of the UK. Things are complicated.
I"'m ready with my music but I am also trying to restructure some things to work smoother and better for me."
Check out our guide to Iggy Azalea's second studio album below:
Revelation 1 - Her Second Album Is Called 'Digital Distortion'
Iggy quickly put fans right after they thought the title as of a song, with the understated but clearly HUGE revelation that it's her record's title.
@HausOfIggz digital distortion is not a song title, its the name of my album.

— IGGY AZALEA (@IGGYAZALEA) October 7, 2015
Revelation 2 - She's Dropping A Song Called 'Zillion' VERY Soon As A Taster
Iggy's quick to confirm this secret track isn't her official album lead single, just to give us all a preview of where she's at with the new music. Ooooh… bring it on!
Revelation 3 - She DOES Have An Official Single Coming… And It's Happening This Month!
Yep, no sooner has she confirmed she's back working on new music but Iggy's already promised a single will be coming in October. So watch this space!
Revelation 4 - The New Album WON'T Be Coming This Year
You'll have to wait until 2016 to hear Iggy's full record but we're sure the lady will keep us entertained with new music until then!
Revelation 5 - Iggy Azalea's Got A New Tour Coming!
The Aussie star confirmed she's already booked dates on a new top-secret tour. When? Where? She's not telling… yet!
@jonnyharlot yes, and its a surprise for now. they will say when they are ready, not me.

— IGGY AZALEA (@IGGYAZALEA) October 7, 2015
Revelation 6 - There's No Theme This Time Around
Iggy's sticking well clear of an overall theme for her second record, moving away from the style of her first album 'The New Classic'.
@sighzach there isnt much of a theme this time. its not like TNC where there were themes alot for things.

— IGGY AZALEA (@IGGYAZALEA) October 7, 2015
Phew… what a day if you're a fan of Iggy Iggs!
Iggy Azalea launched her debut album 'The New Classic' in 2014, returning with a repackaged version called 'Reclassified' towards the end of her year, and she will now begin work on her second record.
You may also like...