Iggy Azalea's Impression Of Nick Young Drunkenly Asking If She'd Marry Him Is HILARIOUS
20 August 2015, 10:37
Iggy Azalea On Nick Young's Proposal
01:01
Iggy reveals exactly how her fiancé dropped hints that he would be popping the question soon – and her impression is too funny.
Iggy Azalea and Nick Young make a gorgeous couple, and the pair have been engaged since June - but Iggy has revealed that she had an idea he was going to pop the question - because he kept drunkenly asking her!
The basketball star popped the question at his 30th birthday celebrations, but he'd already sounded out his fiancee to make sure she would say yes. Iggy revealed how he gave the game away in a new interview on an Australian TV show,and her impression of her future husband is just HILARIOUS.
Iggy revealed, "I had a feeling before he proposed because he kept saying drunkenly 'If I asked you to marry me right now, would you say yes? WOULD YOU? Would you?!'. And I was like, I feel like he's going to probably propose to me and he's trying to make sure I'm definitely going to say yes."
Iggy also recently revealed that she's started planning her wedding already, as she replied to fans who had been asking about the wedding, saying that she would be going for a traditional theme but would be keeping as much of the day private as possible.
@brittanyjpg great! already planning the big day.

— IGGY AZALEA (@IGGYAZALEA) June 15, 2015
@LeoRising15 hmmmm im def wearing white or ivory. i do want a pretty traditional style wedding.

— IGGY AZALEA (@IGGYAZALEA) June 15, 2015
@hoemiceder it will just be between nick and i, we dont plan on sharing our wedding details.

— IGGY AZALEA (@IGGYAZALEA) June 15, 2015
When the surprise proposal happened, a friend of the couple managed to get the magical moment on camera, when Nick aka Swaggy P, got down on one knee and presented Iggy with a stunning yellow diamond ring.
Swaggy P celebrated his birthday tonight by popping the question to his girlfriend Iggy! pic.twitter.com/mF3W5eRau2

— Karεn Ciѵil (@KarenCivil) June 2, 2015
And when you're proposing to one of the biggest female rappers in the game and you're a pretty big star on the basketball court yourself, the ring is always going to be impressive! Check out Iggy's new 10 carat sparkler!
The proposal comes just after Nick revealed that he thought it wouldn't be too long until wedding bells were on the cards. The LA Lakers basketball player told People magazine when they asked if he would be marrying Iggy soon, "Of course! Of Course!"
He added, "But I can't give you that surprise. You're gonna ruin that surprise."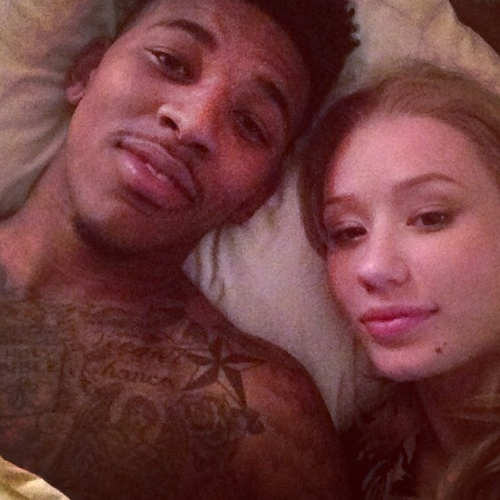 Iggy also broke her Instagram hiatus to post a series of loved up photos of the couple and her amazing new piece of bling:
While he may have chosen his own birthday to get down on one knee, Nick also had big plans for Iggy's 25th birthday the following weekend – and that's just as well seeing as she bought him an actual CAR for Christmas!
He revealed, "I'm planning trips and everything. It's going to be a big surprise ... I can't tell you anything. You'll see next week. We're doing everything."
Congratulations Iggy and Nick - what a gorgeous couple!