You NEED To See Iggy Azalea Sink This AMAZING Basketball Trick Shot – We're Impressed!
2 September 2014, 11:01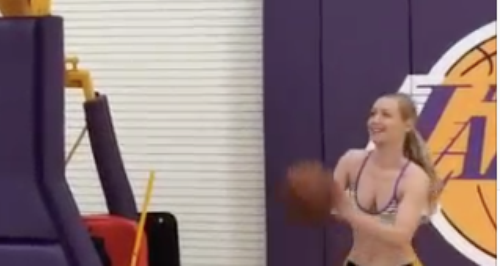 Iggy Azalea has clearly been taking tips from her basketball star boyfriend Nick Young – and she could give him a run for his money!
It takes some guts to take on a professional athlete at their own sport but Iggy Azalea has clearly been getting some pointers from her basketball star boyf – check out this INCREDIBLE trick shot she lands!
Iggy's got a great teacher on hand to perfect her trick shots – her boyfriend Nick Young plays for the LA Lakers and says he doesn't get any tattoos on his right arm because it's "strictly for buckets" – bit late for Iggy Iggs on that front…
The super cute video was posted on Instagram by Nick after he brought Iggy to his team's training facility late on Saturday night and she managed to score from behind the backboard.
We are SERIOUSLY impressed!
You May Also Like…