Harry Styles' Album 'Fine Line' – Release Date, Track List And Everything We Know So Far
27 November 2019, 12:50 | Updated: 5 December 2019, 14:59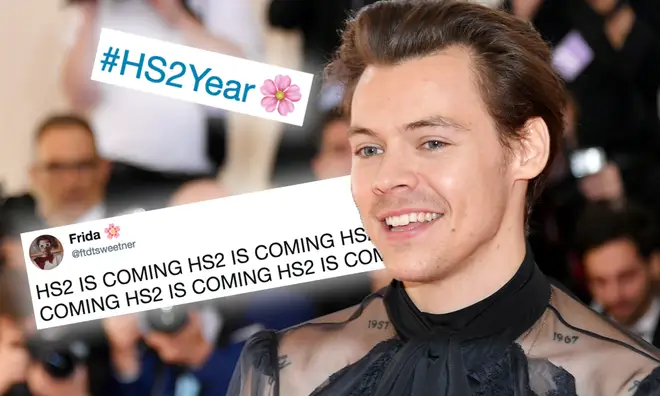 Harry Styles will release his second album, 'Fine Line' on December 13th, and we're gradually finding out more from it's songs, collaborations and new single, Adore You.
Harry Styles' is gearing up for his second album's release this December, after he dropped comeback single 'Lights Up' in October.
Currently promoting new single Adore You, the One Direction star also dropped his another masterpiece, 'Watermelon Sugar', a few weeks after releasing 'Lights Up'.
So what is Harry's new album, Fine Line all about? Here's everything you need to know from tracklist to meanings.
Louis Tomlinson Surprised At Harry Styles's Magic Mushroom Confession
Harry Styles album title
He loves taking us off guard, and got everyone all kinds of excited when he announced his second album is called 'Fine Line'. Cryptic, as ever, and we can't wait to figure out what it all means!
When is Harry Styles' new album release date?
Haz finally announced a release date after weeks of speculation – and it's very soon! His second album, 'Fine Line', will be released on 13 December. Just in time for Christmas.
Harry appeared to tease his second album way back in May, when he tweeted with the hashtag #HS2Year – leaving fans guessing as to whether he was marking the anniversary of his debut album or promising 2019 is the year we'll get to hear album number two.
Many fans were convinced Harry did it on purpose to commemorate HS1 as well as hinting his second album is coming this year too with another user laying out their theory: "The hashtag, #HS2Year was selected on purpose due to its ambiguous connotations of HS 2Year and HS2 Year. In this essay, I will-."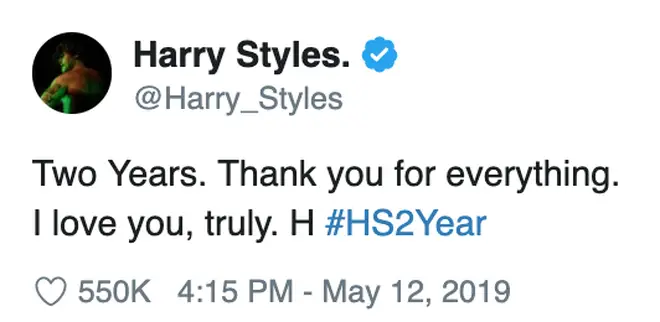 Fine Line track list
Harry dropped the track list for 'Fine Line' a few weeks ahead of its release, and the song names are already the centre of discussion between fans on what each tune could be about.
Here's the full track list:
'Golden'
'Watermelon Sugar'
'Adore You'
'Lights Up'
'Cherry'
'Falling'
'To Be So Lonely'
'She'
'Sunflower, Vol 6'
'Canyon Moon'
'Treat People With Kindness'
'Fine Line'
Just days after dropping his comeback 'Lights Up' he tweeted: "Kiwi walked so Watermelon Sugar could run", referencing his single 'Kiwi' from his self-titled debut album in 2017.
'Kiwi' is thought to be about his low-key relationship with Victoria's Secret model Georgia Fowler, who is from New Zealand.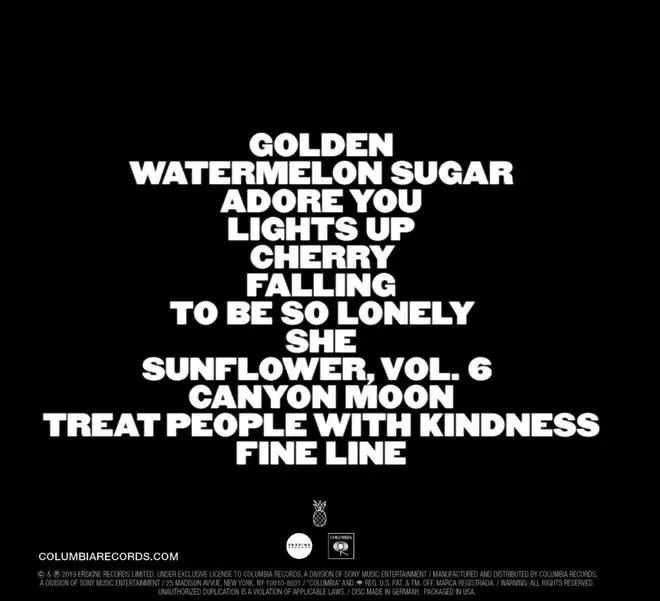 Are there any collaborations on the new album?
We know Mark Ronson likely has a part to play on the new album after Mark shared a picture of himself crashed out on a sofa in a studio on Instagram.
The producer is the mastermind behind hits such as 'Nothin' Breaks Like A Heart', 'Uptown Funk' and 'Late Night Feelings'.
After releasing the track list, it appears there aren't any named collabs, but we know Harry likes to surprise his fans!
Writing credits
The writing credits for the record have been revealed, with Harry working with some of his closest friends and collaborators on the record, including guitarist, Mitch Rowland, GRAMMY nominated producer, Tyler Johnson and Thomas Hull.
Harry has been credited on every single track, revealing he's been immersing himself in songwriting throughout the album process which has made for a braver record than his debut self-titled album.
> Download Our Brand New App For All The Latest Harry Styles News