DNCE - 'Body Moves' (Live At The Jingle Bell Ball 2016)
4 December 2016, 19:29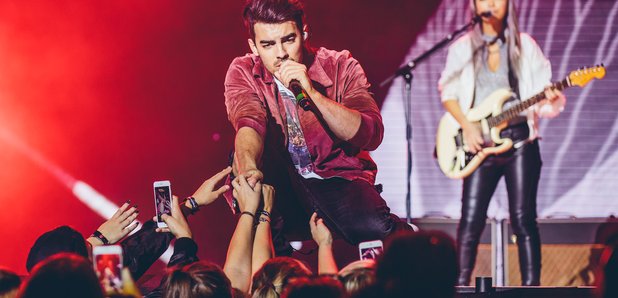 It's their steamiest ever single, and DNCE certainly turned up the heat when they performed 'Body Moves' live at the UK's biggest Christmas party!
DNCE's 'Body Moves' is definitely their sexiest single to date, and it got seriously steamy in London's O2 Arena when the band performed it live this evening.
The American four-piece turned up the heat at Capital's Jingle Bell Ball with Coca-Cola when they rocked the second track of their set – and proved exactly why the world has become a little obsessed with DNCE over the past year.
As well as their incredible tracks, DNCE always know how to put on a killer live show – and tonight you guys were rocking with them!
DNCE – Jingle Bell Ball 2016 Setlist
'Toothbrush'
'Body Moves'
'No Scrubs/Hold On We're Going Home' cover
'Cake By The Ocean'
DNCE – 'Body Moves' Lyrics:
Side by side
Walking home, stumbling home, getting curious
What's on your mind?
'Cause what's on mine's a dirty mind
Why so serious?
Baby the stars above will light the way
Just take my hand and hear the words I say
Yeah, when the morning comes, I'll always stay
You gotta know, you gotta know that I'm feeling this, ow
Come and roll with me, we'll rock them body moves
Me and you (oh, just a little bit)
Body moves (yeah, just a little bit, ow!)
Coming home with me, oh baby, let it loose
Me and you (oh, just a little bit)
Body moves (yeah, just a little bit)
I don't need it, but you know how bad I want it
And your touch has got me haunted, but I like it
Come and roll with me, we'll rock them body moves
Me and you (oh, just a little bit)
Body moves (yeah, just a little bit)
Got all night
Show me more, a little more, it's getting scandalous
Yeah, all my life, yeah
Waiting for the girl next door to get real dangerous
Baby the stars above will light the way
Just take my hand and hear the words I say
Yeah, when the morning comes, I'll always stay
You gotta know, you gotta know that I'm feeling this, ow
Come and roll with me, we'll rock them body moves
Me and you (oh, just a little bit)
Body moves (yeah, just a little bit, ow!)
Coming home with me, oh baby, let it loose
Me and you (oh, just a little bit)
Body moves (yeah, just a little bit)
I don't need it, but you know how bad I want it
And your touch has got me haunted, but I like it
Come and roll with me, we'll rock them body moves
Me and you (yeah, just a little bit)
Body moves (huh, just a little bit), ow
Ha, that's right
Haha
Yeah, when the morning comes, I'll always stay
You gotta know, you gotta know that I'm feeling this
Ow
Come and roll with me, we'll rock them body moves
Me and you (oh, just a little bit)
Body moves (yeah, just a little bit, ow!)
Coming home with me, oh baby, let it loose
Me and you (oh, just a little bit)
Body moves (yeah, just a little bit)
I don't need it, but you know how bad I want it
And your touch has got me haunted, but I like it
Come and roll with me, we'll rock them body moves
Me and you (yeah, just a little bit)
Body moves (huh, just a little bit), ow