DNCE - 'Cake By The Ocean' (Live At The Jingle Bell Ball 2016)
4 December 2016, 21:37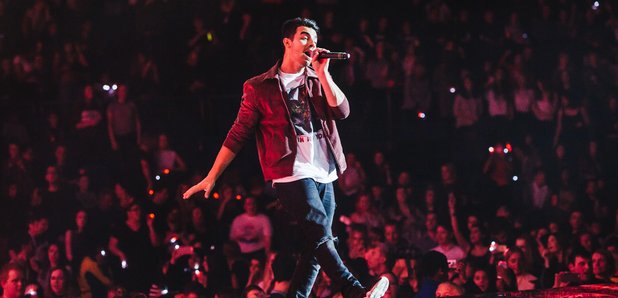 It was DNCE's first single and it catapulted them onto the music scene in style – and the band rocked it at the #CapitalJBB!
You might have had 'Cake By The Ocean' stuck in your head for the past few months – and you wouldn't have been the only one… but, boy, did DNCE bring it when they performed it live at Capital's Jingle Bell Ball with Coca-Cola!
The track went straight into the top 5 on the Vodafone Big Top 40 chart and it cemented DNCE's place as serious players in the music business from the very start.
As well as having some of the catchiest tracks, the band are incredible live performers and they showcased their talent to perfection tonight.
DNCE – Jingle Bell Ball 2016 Setlist
'Toothbrush'
'Body Moves'
'No Scrubs/Hold On We're Going Home' cover
'Cake By The Ocean'
DNCE – 'Cake By The Ocean' Lyrics:
Oh, no
See you walking 'round like it's a funeral
Not so serious, girl; why those feet cold?
We just getting started; don't you tiptoe, tiptoe, ah
Waste time with a masterpiece, don't waste time with a masterpiece
You should be rolling with me, you should be rolling with me, ah
You're a real-life fantasy, you're a real-life fantasy
But you're moving so carefully; let's start living dangerously
Talk to me, baby
I'm going blind from this sweet sweet craving, whoa-oh
Let's lose our minds and go f**king crazy
Ah ya ya ya ya I keep on hoping we'll eat cake by the ocean
Walk for me, baby
I'll be Diddy, you'll be Naomi, whoa-oh
Let's lose our minds and go f**king crazy
Ah ya ya ya ya I keep on hoping we'll eat cake by the ocean
God damn
See you licking frosting from your own hands
Want another taste, I'm begging, yes ma'am
I'm tired of all this candy on the dry land, dry land, oh
Waste time with a masterpiece, don't waste time with a masterpiece
You should be rolling with me, you should be rolling with me, ah
You're a real-life fantasy, you're a real-life fantasy
But you're moving so carefully; let's start living dangerously
Talk to me, baby
I'm going blind from this sweet sweet craving, whoa-oh
Let's lose our minds and go f**king crazy
Ah ya ya ya ya I keep on hoping we'll eat cake by the ocean
Walk for me, baby (walk for me now)
I'll be Diddy, you'll be Naomi, whoa-oh
Let's lose our minds and go f**king crazy
Ah ya ya ya ya I keep on hoping we'll eat cake by the ocean
Ah ya ya ya ya I keep on hoping we'll eat cake by the ocean
Ah ya ya ya ya I keep on hoping we'll eat cake by the ocean
You're f**king delicious
Talk to me, girl
Talk to me, baby
I'm going blind from this sweet sweet craving, whoa-oh
Let's lose our minds and go f**king crazy
Ah ya ya ya ya I keep on hoping we'll eat cake by the ocean
Walk for me, baby (walk for me now)
I'll be Diddy, you'll be Naomi, whoa-oh
Let's lose our minds and go f**king crazy
Ah ya ya ya ya I keep on hoping we'll eat cake by the ocean
Red velvet, vanilla, chocolate in my life
Funfetti, I'm ready; I need it every night
Red velvet, vanilla, chocolate in my life
Ah ya ya ya ya I keep on hoping we'll eat cake by the ocean