Craig David – 'Heartline' (Live At The Jingle Bell Ball 2017)
9 December 2017, 21:54
When Craig David puts his heart on the line for ya, it's a dream come true – so was this performance!
After making a massive musical comeback in 2016, UK legend Craig David is preparing to drop his brand new album 'The Time Is Now' in early 2018 and this was an incredible taster.
'Heartline' was the first single Craig shared from the project and it immediately caught our attention, but this live performance was just next level.
What more could you ask for than Craig David's unrivalled vocals singing one of our fave hits of the year? Superb.
Craig David Jingle Bell Ball 2017 Setlist
'Rewind/When The Bassline Drops'
'Fill Me In'
'Nothing Like This'
'7 Days'
'Heartline'
'I Know You' ft Dan Bastille
'Ain't Giving Up On You'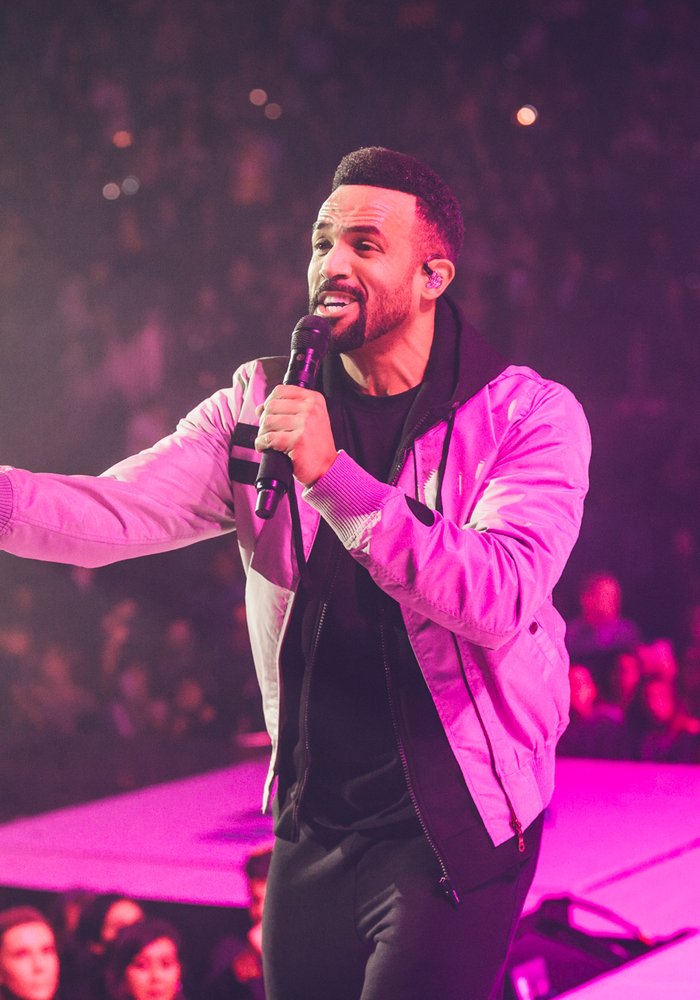 Craig David 'Heartline' Lyrics
[Intro]
Mmm, yeah
No, no, yeah

[Verse 1]
Been lookin' for you in all the wrong places
But I don't go there no more
Every night seein' all the same faces
But I ain't seen you before

[Refrain]
I don't even know you, know you, know you
But girl, I think I love you, love you, love you
I put my lifeline in your hands (lifeline in your hands)
I already know it's over, over
Never fightin' you again, no sir
What I got to lose, I will take a chance

[Pre-Chorus]
Girl I'm not afraid in runnin' away tonight though
I put my heart on the line for you, I put my heart on the line for you
All my friends think I'm crazy, maybe I've lost my mind, but
I put my heart on the line for you, my heart on the line for

[Chorus]
You-ou-ou-ou-ou, ou-ou-ou-ou-ou
I put my heart on the line for you, I put my heart on the line for you
For you-ou-ou-ou-ou, ou-ou-ou-ou-ou
I put my heart on the line for you, my heart on the line for

[Verse 2]
Didn't come in lookin' for a situation
But who woulda thought?
I'd be breakin' every rule I ever made, but
Guess it's a good time to start

[Refrain]
I don't even know you, know you, know you
But girl, I think I love you, love you, love you
I put my lifeline in your hands (lifeline in your hands)
I already know it's over, over
Never fightin' you again, no sir
What I got to lose, I will take a chance

[Pre-Chorus]
Girl I'm not afraid in runnin' away tonight though
I put my heart on the line for you, I put my heart on the line for you
All my friends think I'm crazy, maybe I've lost my mind, but
I put my heart on the line for you, my heart on the line for

[Chorus]
You-ou-ou-ou-ou, ou-ou-ou-ou-ou
I put my heart on the line for you, I put my heart on the line for you
For you-ou-ou-ou-ou, ou-ou-ou-ou-ou
I put my heart on the line for you, my heart on the line for

[Bridge]
Girl, your body's callin'
Girl, I'm goin' all in
I put my heart on the line for you, I put my heart on the line for you
And all the stars allignin'
Just like perfect timin'
I put my heart on the line for you, my heart on the line for

[Chorus]
You-ou-ou-ou-ou, ou-ou-ou-ou-ou, oh no
I put my heart on the line for you, I put my heart on the line for you
For you-ou-ou-ou-ou, ou-ou-ou-ou-ou
I put my heart on the line for you, my heart on the line for