Parents Concerned About Lack Of Children's Exercise
12 September 2016, 07:33 | Updated: 12 September 2016, 07:36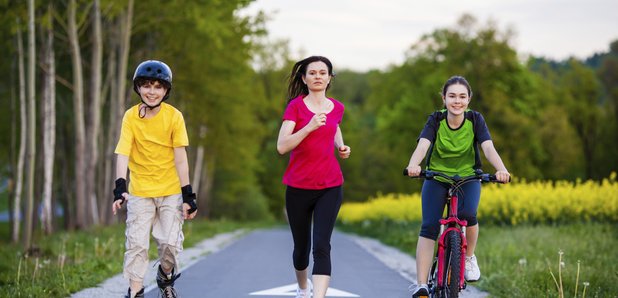 The majority of parents are worried that their children do not do enough exercise, a survey has found.
It has sparked renewed calls from campaigners for more PE classes in school.
Research by Premier Sport, a children's coaching company, found that 18% of Scottish children are doing physical activity every day, while almost two-thirds of parents are worried about obesity levels in their children.
According to the survey of 1,000 parents, 85% think their children would benefit from more education around fitness.
Premier Sport said it is working with ukactive to reach more schools with exercise initiatives.
It will roll out its My Personal Best initiative, which would see four fitness measures for children throughout the school year, with the aim of identifying periods when children become most inactive.
Baroness Tanni Grey-Thompson, chair of ukactive, said: "We know that today's youth are the least active generation ever, so it's vital that we intensify our efforts to embed a minimum of one hour of physical activity into their daily routines.
"Central to this should be the nationwide rollout of fitness measurement programmes for primary school children that are conducted in a way that is fun and enjoyable for kids.
"Research we conducted with Premier Sport around the My Personal Best initiative highlighted the importance of structured physical activity sessions both in and out of school.''
Premier Sport chief executive David Batch said: "The research proves that there is a nationwide need for further education and investment in to our children's fitness to create a year round approach to activity.
"Using meaningful and measurable interventions, in schools, to drive improvement will lead to a healthier understanding and natural step towards tackling underage obesity and inactivity.''