Llifogydd Gogledd Cymru - Storm Angus
22 November 2016, 10:21 | Updated: 22 November 2016, 10:23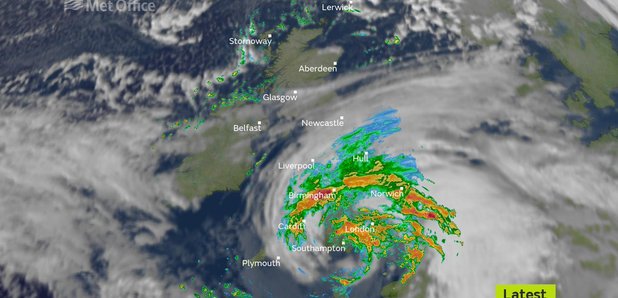 Mae Cyfoeth Naturiol Cymru wedi rhyddau rhybuddion am ardaloedd Mold, Ynys Mon afon Clwyd a Afon Alyn
Mae pedwar rhybudd llifogydd wedi ei rhoi allan ar ol i glaw taro ardal Gogledd Cymru
Mae Cyfoeth Naturiol Cymru wedi cyhoeddi'r rhybuddion ar ol i storm Angus effeithio ar draws y Deurnas Unedig
Mae rhybuddion wedi ei gyhoeddi i Ynys Mon, Mold, Afon Alyn o Llandgela i Rosset ac Afod Clwyd o Clocaenog yr holl ffordd i Rhuddlan.
Mae ardaloedd Mold sydd wedi ei effeithio fwyaf yn cynnwys Leadmill, Queens Park, Brook Street, Gas Lane a Ystad diwydianol Broncoed, yn ol CNC.
Mae Cyfoeth Naturiol Cymru yn rhybuddio fod lefelau afonydd yn uchelach na'r arfer ac gall fwy o law trwm achosi fwy o dwr yn orlifo i llefydd.
Yn cyfan mae Cyfoeth Naturiol Cymru wedi dyroddi 18 o rhybuddion llifogydd ar draws Cymru.
Mae datganiad yn dweud: "Some localised flooding problems may result from surface water. River levels are above normal. We will continue to monitor the situation."
Mae Heddlu Gogledd Cymru hefyd wedi rhybuddio pobl yr ardal, yn dweud i pobl pheidio a teithio os na oni bai fod rhaid
Wnaethant anfon neges ar trydar oedd yn dweud: "Achos bod y tywydd yn ofnadwy yn Gogledd Cymru ar y funud, peidiwch a mynd allan os oes na ddim rheswm pwysig. Glaw yn creu problemau"
"Meddyliwch os ma'r taith yn pwysig a meddwliwch am effaith yr glaw ar y ffordd. Gyrrwch yn ofalus os ma rhaid fynd allan. Diolch"
Mae'r tywydd llym wedi hefyd effeithio rhannau o'r A55, yn enwedig Gwynedd, ble mae'r heol wedi ei dagu gan dwr.
Mae un lon o'r priffordd orllewinol wedi ei cae rhwng y J13 i Abergwyngregyn a'r J12 am Tal-y-bont, yn agos i Bangor.
Mae'r A55 yn Treborth hefyd wedi gweld llifogydd, hefo un lon dwyreinol wedi ei cae.
Mae yna traffig araf ar yr A5 ym Mangor rhwng heol B4366 Felin Hen a Heol Bangor, yn agos i'r bont Hannerffordd, oherwydd glaw trwm.
Mae'r A498 rhwng Prenteg a Beddgelert wedi ei cau am cwpl o oriau yn dilyn "tywydd cas" yn ogystal a'r A497 yn Nefyn ar ol nifer o coed fawr wedi ei cwympo.
Mae promenadau Colwyn Bay a Towyn hefyd wedi ei effeithio gan y mor a'r gwynt galed.
Cafodd gwasanaeth Tan a Achub Gogledd Cymru ei alw i nifer o ddigwyddiadau i wneud hefo'r tywydd yn Wrexham , Ruthin , Afonwen a St Asaph neithiwr.