Zara Larsson - 'Never Forget You' (Live At The Summertime Ball 2017)
10 June 2017, 16:44
When Zara Larsson performed 'Never Forget You' at the #CapitalSTB it proved just how far she's come as a world famous singing sensation!
After winning the Swedish version of Britain's Got Talent aged just 10 years old, Zara Larsson was under immense pressure to prove that she really had what it takes to be a star – and her #CapitalSTB set certainly did that.
'Never Forget You' was released back in 2015 and was a massive hit on the Vodafone Big Top 40. You guys couldn't get enough of it and you the 80,000 strong crowd inside Wembley Stadium proved that they still love it by singing along to every word!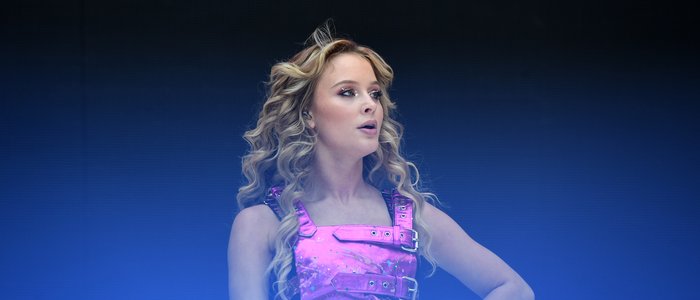 Having released the track with MNEK originally, Zara certainly didn't seem lost up there performing it by herself and it seemed as though she loved every single second of it – as did we all.
If you didn't make it to the #CapitalSTB you can catch up with Zara's breath-taking set with the video above. Not a bad way to make your #CapitalSTB debut!
Zara Larsson – Summertime Ball 2017 Setlist
Ain't My Fault
Never Forget You
I Would Like
Lush Life
Zara Larsson 'Never Forget You' Lyrics
I used to be so happy
But without here I feel so low
I watched you as you left but I can never seem to let you go
'Cause once upon a time you were my everything
It's clear to see that time hasn't changed a thing
It's very deep inside me but I feel there's something you should know
I'll never forget you
You'll always be by my side
From the day that I met you
I knew that I would love you till the day I die
And I will never want much more
And in my heart I will always be sure
I will never forget you
And you'll always be by my side till the day I die
Till the day I die
Funny how we both end happy but everything seems alright, ooh
I wonder what will happen
If we went back and put up a fight
'Cause once upon a time you were my everything
It's clear to see that time hasn't changed a thing
So, just what do you think could ever take you off my mind
I'll never forget you
And you'll always be by my side
From the day that I met you
I knew that I would love you till the day I die
And I will never want much more
And in my heart I will always be sure
I will never forget you
And you'll always be by my side till the day I die
Doing it, loving it
Everything that we do
And all along, I knew I had something special with you
But sometimes you just gotta know that these things fall through
But I'm still tired and I can't hide my connection with you
Feeling it, loving it
Everything that we do
And all along, I knew I had something special with you
But sometimes you just gotta know that these things fall through
I can't hide my connection with you
I'll never forget you
And you'll always be by my side
From the day that I met you
I knew that I would love you till the day I die
And I will never want much more
And in my heart I will always be sure
That I will never forget you
And you'll always be by my side till the day I die
Till the day I die, till the day I die, till the day I die
Till the day I die, till the day I die, till the day I die
I'll never forget you (I will never, never, never, never, never, never)
I'll never forget you
Till the day I die