Zara Larsson - 'I Would Like' (Live At The Summertime Ball 2017)
10 June 2017, 16:53
Zara Larsson turned up the volume at the #CapitalSTB with a memorable performance of her upbeat anthem 'I Would Like'!
Having previously worked with the likes of Tinie Tempah, David Guetta and Clean Bandit, Zara has always been highly regarded by her music peers and after this live set it was easy to see why.
'I Would Like' is known for those cheeky lyrics about getting under your sexy body and it was an incredible thing hearing 80,000 people sing them back to the Swedish star at Wembley! With dance moves galore, Zara wowed from the moment she bounded onto the stage and this track was a real highlight.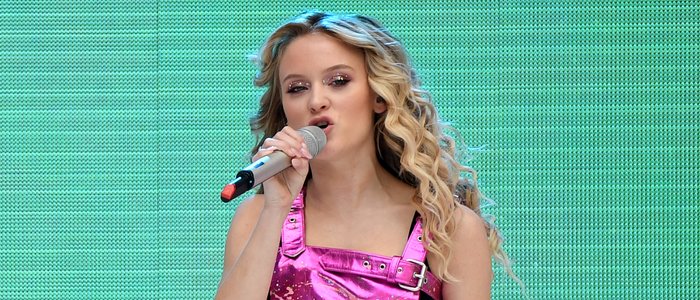 Having been named by Time Magazine as one of the most influential teenagers in the world recently, Zara's status as one of the planet's biggest popstars is only going to rise – especially after people see this dynamic #CapitalSTB performance!
If you didn't manage to make it to the #CapitalSTB this year, don't panic - you can catch up with Zara's lively set by watching the video above. Get involved!
Zara Larsson – Summertime Ball 2017 Setlist
Ain't My Fault
Never Forget You
I Would Like
Lush Life
Zara Larsson 'I Would Like' Lyrics
I didn't know that I could want you so deep
Until I saw you with someone who is not me
You got me playing in a game that ain't fair
But you're taking me there, yeah you're taking me there
Oh, I can't help myself, it's human nature, human nature
Who's to say what's meant to be?
Oh, why can't we be on our worst behavior, worst behavior
When it all comes naturally
I would like to get to know you baby
Like to get under your sexy body
I would like to get to know you baby
Like to get under your sexy body
Under your sexy body
Under your sexy body
Under your sexy body
What would you do, the way you hold it like that (like that)
Looking at me to see if I'm the get-back
Me and you boy, we gon' work tonight to leave, to leave
If you're leaving with me, leaving with me
Oh, I can't help myself, it's human nature, human nature
Who's to say what's meant to be?
Who's to say what's meant to be?
Why can't we be on our worst behavior, worst behavior
When it all comes naturally
I would like to get to know you baby
Like to get under your sexy body
I would like to get to know you baby
Like to get under your sexy body
Under your sexy body
Na na na, na na na, oh
Under your sexy body
I would like to get to know you baby
Like to get under your sexy body
Come take me under now, na na na, na na na
Go on and go there, na na na, na na na
Come take me under now, na na na, na na na
Go on and go there, na na na, na na na
I would like to get to know you baby
Like to get under your sexy body
I would like to get to know you baby
Like to get under your sexy body
Under your sexy body
I would like to get to know you baby
Like to get under your sexy body
I would like to get to know you baby
Like to get under your sexy body
Come take me under now, na na na, na na na
Go on and go there, na na na, na na na
Come take me under now, na na na, na na na
Go on and go there, na na na, na na na