Will.i.am Denies He's Suing Pharrell Williams Over Use Of "I Am"
27 June 2013, 07:55 | Updated: 27 June 2013, 09:22
The 'Bang Bang' singer's attorney also issues a statement about the recent reports.
Will.i.am has taken to Twitter to deny that he is set to sue Pharrell Williams over the use of "I Am" for his new online talent website.
The 'Get Lucky' singer set up the I Am OTHER brand in a bid to find "diverse group of optimistic, bright minds" with claims the Black Eyed Peas star was upset with the name of the company.
US reports stated that Will took exception, due to his own trademark of the phrase, and also argued Pharrell's logo was "confusingly similar".
"i.am not suing @Pharrell and I never was... what i.am doing is #iamangel TRANS4Ming inner cities with #STEAM tools..." he wrote.
Rolling Stone magazine quoted the N*E*R*D star as saying he was left confused by the whole apparent lawsuit.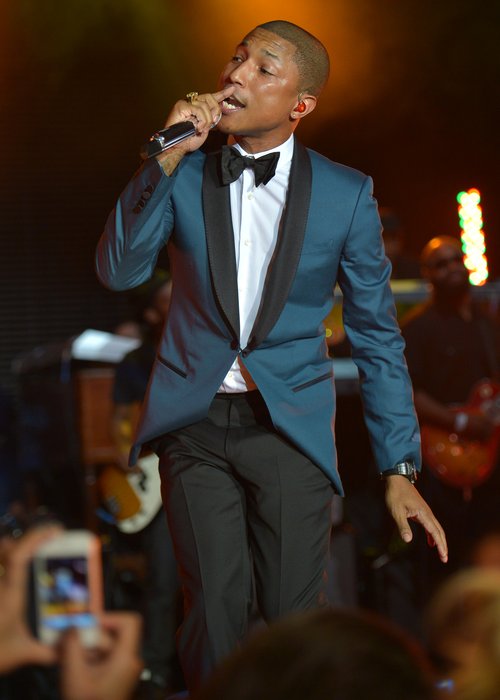 "I am surprised in how this is being handled and I am confident that Will's trademark claims will ultimately be found to be as meritless and ridiculous as I do," he told the publication.
Will's attorney Ken Hertz has also issued a statement insisting the complaint lodged "is a run-of-the-mill trademark dispute that has been going on since late last year."
Ken continued: "Unfortunately, due to deadlines imposed by the U.S. Trademark Office, will.i.am had no choice but to lodge his objection at the time he did. This is how the process works. We own a trademark. They have applied for a trademark. We think their proposed trademark is too close to our registered and common law trademarks. They disagree."

"We hope to work out a sensible compromise that will allow both parties to move forward without unnecessary acrimony. "
Meanwhile, Will is expected to head straight into the studio with The Voice runner-up Leah McFall to work on new music together.