Usher Sings 'ABC' Song With Cast Of Sesame Street – Video
2 October 2013, 12:31 | Updated: 3 October 2013, 11:11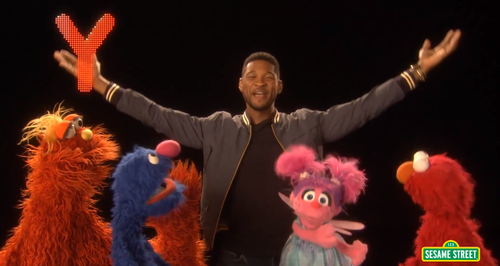 The 'Climax' singer is joined by classic characters such as Elmo and Grover during the clip.
Usher performed a special song teaching children their abc's during an appearance on Sesame Street this week.
The 'Pop Ya Collar' man is joined by such characters as Elmo and Grover for an energetic performance of the alphabet.
The singer is not the first big name pop star to have made an appearance on the show, with the likes of Beyonce, Ice T and a Muppet version of Justin Bieber.
Watch Usher and the cast of Sesame Street performing their ABC song below:
The singer also tweeted about his appearance and said he was thrilled to teach Elmo that 'Y' stood for "yeahman!"
The 'Scream' singer was also recently snapped in the studio with Pharrell, Mike Will and T.I.