Usher Defends Justin Bieber: "He's A Teenager Living His Life In Front Of A Camera"
29 May 2013, 12:17
The 'Climax' singer tells Ellen DeGeneres he hopes the Canadian star will continue to mature with age.
Usher has come to the defence of Justin Bieber and said that it's tough for the singer to have any form of privacy when he is living his life in front of a camera.
The 'Pop Ya Collar' singer was a guest on the Ellen DeGeneres show this week and told the chat show host that he hopes the teen will continue to mature over time.
"Key word, you started with young," declared Usher when asked about the young star. " And I think all of us in some way have humble beginnings that pan out to be incredible and we hope that in his transition as friends and family who has helped him be who he is. "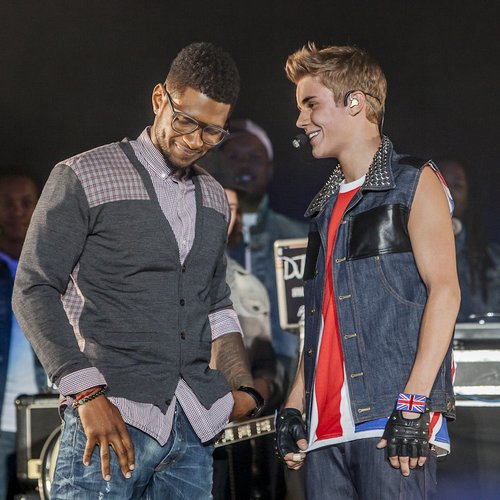 He continued: "That he'll continue to just mature but you know in this days age of social media.
"There is no privacy and that kind of trail and elimination period is kind of done in front of a camera."
Check out Usher speaking about Justin Bieber below:
He also said that he doesn't look upon criticism of the star in the same way as others despite the negative reports in the press.
"It's been done in many, many other celebrities are product of it and some come out bad and some come out good. I am hoping for the best. I don't look at as a negative though," he said. "I look at it as a teenager."
"A teenager having to live his life in front of a camera. Imagine if you had to do that as a teenager."
Usher also said that whenever he gets time, he endevaours to help out his protégée.

"Obviously when I can be of help I do so. Reach out and stay connected," he added.
Meanwhile, Usher has been recently speaking about his next album and promised a return to R&B.