Union J On Letting Loose... And Visiting Miley Cyrus' Dressing Room! #CapitalSTB
23 June 2014, 11:27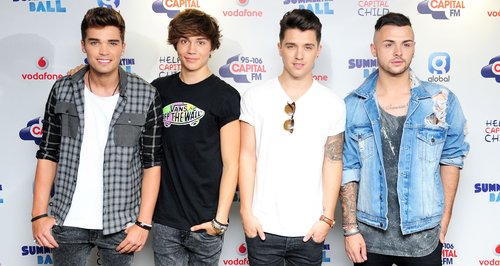 There's no more getting early nights for Union J, the boys have decided to get dirty and more rock and roll – which starts with hanging out with Miley obvs.
We LOVE it when boy bands go bad – we didn't think we could fancy One Direction any more than we did, until they started rocking bandanas, more tattoos and looking a whole lot rougher round the edges – and the next band to switch up their image is set to be Union J.
Bursting back on to the scene with their brilliant new track 'Tonight (We Live Forever)', Union J are keen to shake off the wholesome image they developed from being an X Factor act – and it all started at V Festival of all places!
Jaymi Hensley told The Daily Star, "We went to V and that was the start of the decline. It made us realise we need to enjoy ourselves more."
Union J had the girls screaming at the Summertime Ball
But surely they were making the most of the boyband lifestyle on the road? Not so, it seems, as Jaymi said, "Even on our last tour we would go straight to bed after shows. But going camping, getting filthy muddy - I loved it."
And the Beyonce superfan himself, Jaymi, was enjoying himself so much he even missed her headline performance! He said, "Beyoncé was on stage and I didn't even notice because I was having so much fun."
And their transformation obviously starts with the queen of controversy, Miley Cyrus, as George Shelley revealed that she wanted to hang out with them ahead of the ball. George said, "Miley Cyrus has invited us to her dressing room before. She's nice so maybe we'll get another chance to see her 'Bangerz'." Cheeky!
But what effect will their new image have on the new album? George said, "It's important keeping the boyband feel, but at the same time we need to adapt to how pop music is changing." We can't wait to hear it!
'Tonight (We Live Forever)' is out 17th August.