The Vamps Team-Up With YouTube's Best For 'Oh Cecilia' Charity Song
22 September 2014, 16:28
The boys have hooked up with a range of YouTube favourites for the TCT charity track.
The Vamps have teamed up with the biggest YouTube stars around right now to create a HILARIOUS new music video… all in aid of charity!
The boys have recorded a special version of their upcoming single 'Oh Cecilia (Breaking My Heart)', and a NEW music video, alongside stars like Tyler Oakley, Sam Pepper, Luke Franks and Mazzi Mazz.
Bradley Simpson, James McVey, Connor Ball and Tristan Evans appear at the start of the video to explain their team-up with the Teenage Cancer Trust on the special charity single, which is available to pre-order now.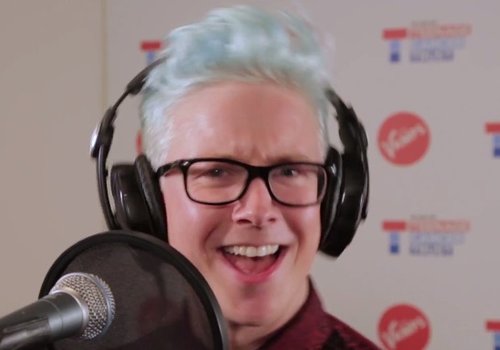 The leading YouTube stars featured are favourites across the globe, with 20 million subscribers between them, and include stars like Harrison Webb, Doug Armstrong, Luke Cutforth & Benjamin Cook, BriBry, Ebony Day, Sam King, Chop Daddy, Sam Pepper and Tyler Oakley.
The Vamps' NEW charity version of 'Oh Cecilia' is released on 12th October with ALL proceeds going to the Teenage Cancer Trust.
You May Also Like…