WATCH: The Vamps' Song 'Wake Up' Arrives... And Yes That IS Brooklyn Beckham In The Video
2 October 2015, 08:15 | Updated: 2 October 2015, 09:17
Check out what fans thought of the boys' return track, and see their new video preview too.
The Vamps dropped their brand new song 'Wake Up' today (2nd October) and they've ALSO revealed a trailer for the track's music video... which co-stars none other than Brooklyn Beckham!
The four-piece gave their uplifting new track its first play on Capital this morning (2nd October), after announcing recently that the track will also be released for fans to download today.
Fans took to Twitter to sing the boys' praises as the track hit Capital for the first time - getting #WakeUpOnCapital trending on Twitter - so check out some of our favourite listener reactions below:
IM LITERALLY CRYING GUYS #WakeUpOnCapital @TheVampsband @CapitalOfficial

— WAKE UP || TODAY (@fangirlinhardaf) October 2, 2015
@TheVampsband omg i love it omg omg #WakeUpTeamStream #WakeUp #WakeUpOnCapital

— Eve | Vampette (@EvieeMae_) October 2, 2015
IM CRYING IN THE STREETS OH MY GOD #WakeUpOnCapital @TheVampsband I AM AMAZED

— Ellie-may Hepworth (@Ellhepworth) October 2, 2015
THIS IS AMAZING #WakeUpOnCapital @TheVampsband @CapitalOfficial WHAT AN AMAZING START TO MY FRIDAY

— Will (@WillCairns13) October 2, 2015
First impression of #wakeup ?? AMAZING!!! @TheVampsband #WakeUpTeamStream #WakeUpOnCapital

— Emily (@emz9x) October 2, 2015
@TheVampsband WAKE UP IS AMAZING WTF #WakeUpOnCapital

— dan (@TheVampsDanny) October 2, 2015
@TheVampsband I dancing round my living room #WakeUpOnCapital

— Abby B (@abby_bolam) October 2, 2015
And fresh from the first play The Vamps dropped a teaser trailer for the 'Wake Up' video which confirms that David Beckham's son Brooklyn will have a starring role in it alongside Brad, Connor, Tristan and James.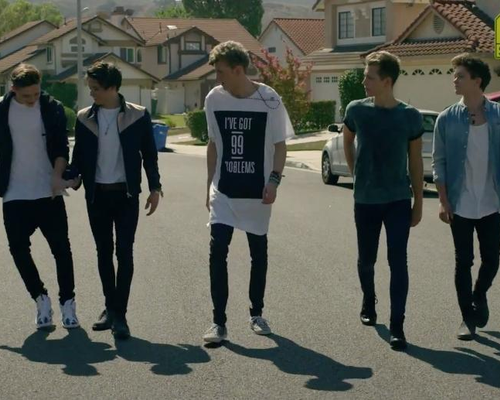 The boys have also announced that their second album will also be called 'Wake Up', and fans can get their hands on it on 27th November.
The album will include 18 songs and a free concert DVD from the band's sold out dates at the O2 Arena, but fans will have to get in quick - the DVD will only be available for the first 4 weeks of sale!
As well as revealing the first track from their forthcoming second album, the boys also announced a new tour and the boys will be coming to cities around the UK to see all of you lovely lot in the actual flesh. SCREAM.