LISTEN: Preview ALL The New Songs On The Vamps' Brand New Album 'Wake Up'
20 November 2015, 08:57 | Updated: 5 December 2018, 15:40
The Vamps - Wake Up (Album Sampler)
05:15
Get your ultimate preview for the boys' second studio album ahead of its launch next week.
There's just ONE week to go before The Vamps drop their long-awaited second studio album - and the boys have treated their fans to an AMAZING album sampler to tide them over!
If you've been counting down to the launch of the boys' new collection 'Wake Up' then today is your lucky day as you can get a taste of all ten brand new tracks from the record in the sampler above. WE LOVE THEM ALL!!
Brad, Tristan, Connor and James dropped 'Wake Up' as the lead single from the album this Autumn, as well as teaser promo track 'Cheater', and now you can get a sneak preview of songs like 'I Found A Girl', 'Windmills' and 'Volcano'.
The Vamps officially release their new album 'Wake Up' on 27th November.
Brad, Connor, Tristan and James have been hard at work on their second album for some time now, promising they may well have a VERY different sound to debut 'Meet The Vamps'.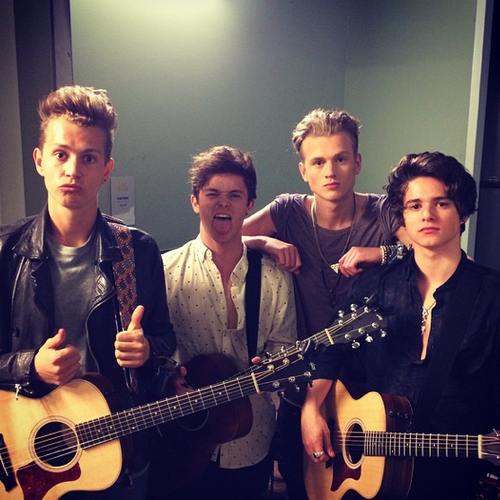 "We are 87% done on the album, just finishing touches to go," The Vamps' Brad Simpson revealed to Music News earlier this year. "[It's] a bit more like Imagine Dragons or MGMT.
"A bit more alternative, but hopefully the fans enjoy it," he explained. "It's got a bit more of a rockier edge in parts but we are really happy with it so far and looking forward to having it in our hands as an album.
"We did 12 songs in a short period of time," The Vamps revealed to Digital Spy recently. "We've been trying out so many different things.
"I think we're going to wait and see what we get back and see how it is," 'Last Night' star Brad explained. "We tried that Magic! 'Rude' vibe for a couple, then there were a few ideas the producers had and we were like, 'Let's just try it out'.
"It was very different, like urban, one of them!" he added. "I think it's good for us to."
The Vamps have now officially announced new album 'Wake Up' for release on 27th November with the new single getting released on 2nd October.
You may also like...