The Vamps: 9 Jingle Bell Ball Moments That Made Us Fall In Love With The Boys
10 December 2013, 15:50 | Updated: 10 December 2013, 16:26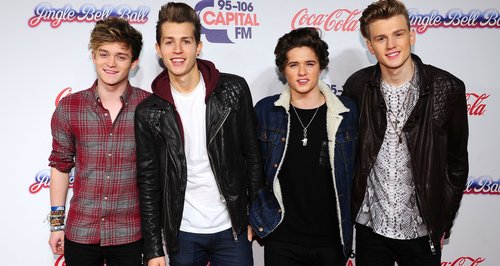 After smashing into the charts with their debut single 'Can We Dance', The Vamps made quite the impression at this year's Jingle Bell Ball event!
Join Capital as we look back at some of The Vamps' #CapitalJBB moments that made everyone fall in love with Brad, James, Tristan and Connor even more.
1. First up... we were loving Brad's sexy Danny-from-Grease look for the big day!
2. Plus Connor was looking painfully adorable for the ENTIRETY of The Vamps' Jingle Bell Ball set:
3. The fact the boys were excited and truly appreciative of their spot in the Jingle Bell Ball line-up! #TrueGents
Still can't believe we just walked onto a stage to 18 thousand people! We are so grateful! Xx

— Tristan Evans (@TheVampsTristan) December 8, 2013
A huge thankyou to @CapitalOfficial for last night it was incredible, an absolute dream to play the 02 :)

— Bradley Will Simpson (@TheVampsBrad) December 9, 2013
4. When boys walked the Capital red carpet looking well and truly #swoon worthy! #CalmDownVampettes
5. Obviously the boys' performance of 'Can We Dance' was one of the event's highlights for any TRUE Vampette out there!
6. The Vamps' AMAZE webchat with Capital from backstage at the show was adorable AND hilarious! Watch it below:
7. The fact that, even though they had a big show to get ready for, they made time to show some love to the other Jingle Bell Ball performers!
Totally sick the other night @RizzleKicks

— James McVey (@TheVampsJames) December 10, 2013
You totally smashed it tonight @JamesArthur23 at @CapitalOfficial #JBBstage

— James McVey (@TheVampsJames) December 7, 2013
8. Brad doing his own Miley Cyrus impression was definitely a moment to remember!
9. The Vamps even made sure the #CapitalJBB crowd got into the festive spirit with a cover of 'Jingle Bells'!
You may also like...