The Vamps Launch Debut Album 'Meet The Vamps' And Explain Album Title
14 April 2014, 11:57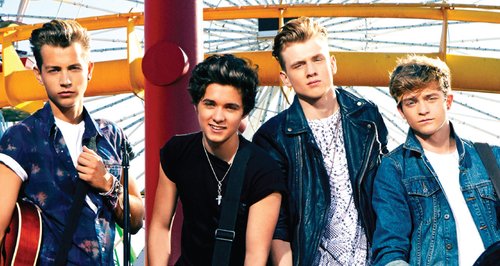 The 'Wild Heart' four-piece open up about paying homage to The Beatles.
The Vamps launched their brand new debut album 'Meet The Vamps' today, and have opened up about the record and how they picked the title.
The 'Can We Dance' four-piece released their first record today (14th April), following the huge success of singles like 'Wild Heart' and 'Last Night'.
The groups' record shares a similar title to The Beatles' second studio outing, and Brad, James, Tristan and Connor admit that was an intentional homage.
"We realised the Beatles connection, we didn't want to be insulting or big-headed in any way but being a British band we are massively influenced by them," singer Bradley Simpson explained to the Daily Star this week. "It's kind of a similar thing in the sense that we are pop and it's the first thing we're putting out.
"People are meeting The Vamps and having their first impression of our music," he continued, before revealing: "There are songs I wrote when I was15, and comes James McVey wrote when he was 14, so it's been brewing three of four years.
"We wrote about 40 songs for the album so to cut them down was hard," the 'Last Night' singer admitted.
You can download The Vamps' debut album 'Meet The Vamps' right now.
You may also like: