Jimmy Fallon Wears A Wig, While Natalie Portman Claps In This INSANE Sia Cover
Our minds have just melted in our skulls. We don't have a clue what was going on at all, when Jimmy, Natalie and Sia teamed up. Prepare for the trippiest two minutes of your life...
Jimmy Fallon is the KING of the viral videos. He made the Lip Sync Battle what it is today, people!
But this... This is just so bizarre. Can you even imagine what it was like in the 'The Tonight Show' writers room?
"Okay, so Jimmy Fallon's gonna have Academy Award-winning actress Natalie Portman on the show. What can we have her do? Should she do a deeply-inspiring dramatic monologue? Or shall we have her beat a pair of wooden blocks together for 120 seconds? I like the latter."
"We also need Jimmy to look odd too. So let's have him dressed as the singer Sia... But we won't have him sing her latest song. We'll have him sing a song from the mid-60s, okay?"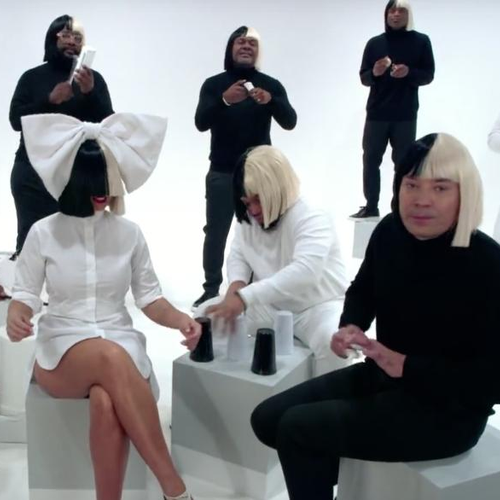 "Why couldn't we just get the real Sia to sing it? I'll tell you why - because we're going to have her squeal at the end of the song, while the rest of the house band, The Roots, are also dressed as her."
"Oh. And we're also going to have a guy struggling to play with some plastic cups, just because we can..."
You May Also Like...