Rita Ora – 'Your Song' (Live At The Jingle Bell Ball 2017)
9 December 2017, 19:24 | Updated: 9 December 2017, 19:40
Rita kicked off the #CapitalJBB in serious style!
Rita Ora's had quite the comeback year and what better way to finish it off than with an incredible performance opening Capital's Jingle Bell Ball with Coca-Cola?!
Opening the whole show is no mean feat, and Rita kicked off Saturday's show with an epic six-song set including some of her biggest hits.
It was definitely 'Your Song' when Rita belted out this absolute tune and you can relive it by clicking play on the video above!
Rita Ora – Jingle Bell Ball 2017 Set List
'Your Song'
'Hot Right Now'
'I Will Never Let You Down'
'Black Widow'
'Lonely Together'
'Anywhere'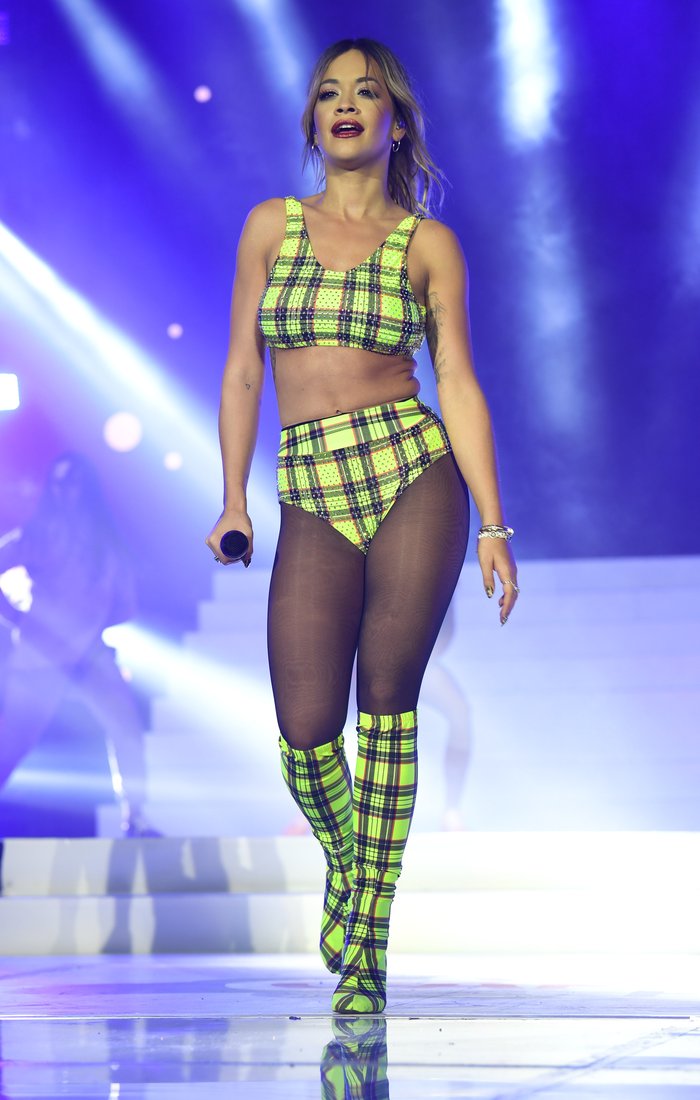 Rita Ora 'Your Song' Lyrics
I woke up with a fear this morning
But I can taste you on the tip of my tongue
Alarm without no warning
You're by my side and we've got smoke in our lungs

Last night we were way up, kissing in the back of the cab
And then you say, "Love, baby, let's go back to my flat"
And when we wake up, never had a feeling like that
I got a reason, so man, put that record on again

I don't wanna hear sad songs anymore
I only wanna hear love songs
I found my heart up in this place tonight
Don't wanna sing mad songs anymore
Only wanna sing your song
'Cause your song's got me feeling like I'm

I'm in love, I'm in love, I'm in love
Yeah, you know, your song's got me feeling like I'm

No fear but I think I'm falling, I'm not proud
But I'm usually the type of girl that would hit and run
No risk so I think I'm all-in
When I kiss your lips, feel my heartbeat thump
And now we're way up, dancing on the roof of the house
And then we make love, right there on your best friend's couch
And then you say "Love, this is what it's all about"
So keep on kissing my mouth and put that record on again

I don't wanna hear sad songs anymore
I only wanna hear love songs
I found my heart up in this place tonight
Don't wanna sing mad songs anymore
Only wanna sing your song
'Cause your song's got me feeling like I'm

I'm in love, I'm in love, I'm in love
I'm in love, I'm in love, I'm in love
I'm in love, I'm in love, I'm in love
Yeah, you know your song's got me feeling like I'm

I don't wanna hear sad songs anymore
I only wanna hear love songs
I found my heart up in this place tonight
Don't wanna sing mad songs anymore
Only wanna sing your song
'Cause your song's got me feeling like I'm
I don't wanna hear sad songs anymore
I only wanna hear love songs
I found my heart up in this place tonight
Don't wanna sing mad songs anymore
Only wanna sing your song
'Cause your song's got me feeling like I'm

I'm in love, I'm in love, I'm in love
I'm in love, I'm in love, I'm in love
I'm in love, I'm in love, I'm in love
Yeah, you know your song's got me feeling like I'm