Pharrell At The iTunes Festival 2014: The Highlights
11 September 2014, 11:36 | Updated: 11 September 2014, 11:49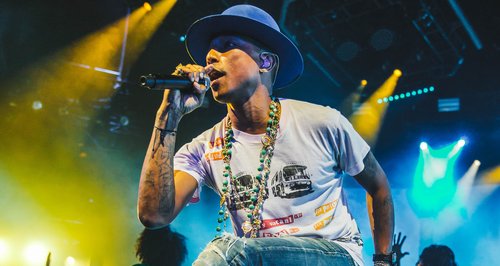 Pharrell Williams turned Camden's Roundhouse into a club as he shut down iTunes Festival with some of his biggest hits from his back catalogue and latest album.
With one of the most downloaded track ever in the UK under his belt with 'Happy', it's fair enough to say Pharrell's iTunes Festival set was highly anticipated, and he did not disappoint!
Performing older hits from his N.E.R.D days such as 'Rockstar' and 'She Wants To Move', as well as newer music 'Sing' and 'Marilyn Monroe' plus covers. Pharrell really did shut down Camden's Roundhouse in London for iTunes Festival last night (Wednesday 10th September)!
From 4.30pm crowds were already beginning to form ahead of the event
We headed backstage to catch up with the man himself (check out his shoes!!)
Taylor Swift was one of many topics Pharrell chatted to Capital's Max about ahead of taking to the stage
Crowd favourite 'Marilyn Monroe' got everyone dancing in the Roundhouse!
Rocking a bandanna, Pharrell even took his hat off for some tracks
"And I promise you that I'm gonna remain SO loyal to music, because it has taken me so far" @Pharrell @itunesfestival #itunesfestival

— Ivor Swartz (@IvorSwartz) September 11, 2014
Pharrell gives a shout out to Ed Sheeran as he performs 'Sing'
Remember this one?!
@Pharrell produced "Hot in Here"?!?!? What!?!? @itunesfestival

— Megan Webster (@esaudax) September 11, 2014
No party is complete without a confetti cannon...
@Pharrell "giants don't die, just sleep" great show!!!#itunesfestival

— Milton Missett (@cartmanmil) September 11, 2014
Pharrell's iTunes Festival 2014 set list:
1. 'Lose Yourself to Dance' (Daft Punk cover)
2. 'Come Get It Bae'
3. 'Frontin''/'Hunter'
4. 'Marilyn Monroe'
5. 'Hot in Herre' (Nelly cover)
6. 'Like I Love You' / 'SING'
7. 'Rock Star' (N*E*R*D song)
8. 'Lapdance' (N*E*R*D song)
9. 'She Wants to Move' (N*E*R*D song)
10. 'Beautiful' (Snoop Dogg cover)
11. 'Drop It Like It's Hot' (Snoop Dogg cover)
12. 'Aerosol Can' (Major Lazer cover)
13. 'Hollaback Girl' (Gwen Stefani cover)
14. 'Blurred Lines' (Robin Thicke cover)
15. 'Get Lucky' (Daft Punk cover)
16. 'Happy'