Nathan Sykes - 'Over And Over Again' (Live At The Jingle Bell Ball 2016)
4 December 2016, 00:35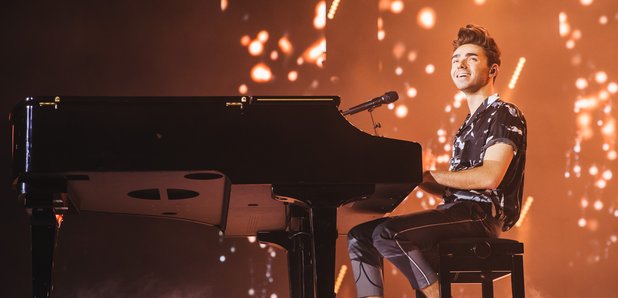 Nathan slowed it down a bit with his emotional hit song 'Over And Over Again' live at the UK's biggest Christmas party!
It all got a little bit emosh in London's O2 Arena – Nathan brought his most emotional hit song, 'Over And Over Again' to Capital' Jingle Bell Ball with Coca-Cola!
Nathan Sykes released this beautiful track back in October 2015 as his second solo single - along with a special remix featuring Ariana Grande, and it sounded just as beautiful this evening.
He always stuns us with his faultless vocals and you could see the emotion on Nathan's face as he delighted the crowd with this fan favourite at the #CapitalJBB.
Nathan Sykes – Jingle Bell Ball 2016 Setlist
'Kiss Me Quick'
'Twist'
'Give It Up'
'Over And Over Again'
'Famous'
Nathan Sykes – 'Over And Over Again' Lyrics:
From the way you smile to the way you look
You capture me unlike no other
From the first hello, yeah, that's all it took
And suddenly we had each other
And I won't leave you
Always be true
One plus one, two for life
Over and over again
So, don't ever think I need more
I've got the one to live for
No one else will do, and I'm telling you
Just put your heart in my hands
Promise it won't get broken
We'll never forget this moment
Yeah, we'll stay brand-new 'cause I'll love you
Over and over again
Over and over again
From the heat of night to the break of day
I'll keep you safe and hold you forever
And the sparks will fly, they will never fade
'Cause every day gets better and better
And I won't leave you
Always be true
One plus one, two for life
Over and over again
So, don't ever think I need more
I've got the one to live for
No one else will do, yeah, I'm telling you
Just put your heart in my hands
I promise it won't get broken
We'll never forget this moment
Yeah, we'll stay brand-new 'cause I'll love you
Over and over again
Over and over again
Girl, when I'm with you I lose track of time
When I'm without you you're stuck on my mind
Be all you need till the day that I die
I'll love you
Over and over again
So, don't ever think I need more
I've got the one to live for
No-one else will do, yeah, I'm telling you
Just put your heart in my hands
Promise it won't get broken
We'll never forget this moment
Yeah, we'll stay brand-new 'cause I love you
Over and over again
Yeah, over and over again
Over and over again