Martin Garrix - 'DJ Set' (Live At The Jingle Bell Ball 2016)
5 December 2016, 12:19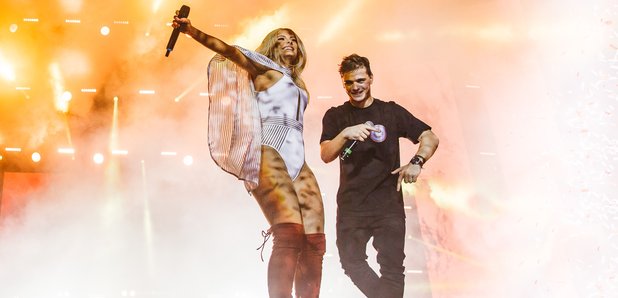 He's one of the most popular DJ's on the planet and he showed us why with this amazing set at the #CapitalJBB!
Whether you're a regular club enthusiast or you just like to enjoy a good old party every now and again, this set had everything and Martin obviously knows how to wow a crowd.
As soon as he set foot on the stage at London's iconic O2 Arena, the atmosphere was electric and everyone in attendance at Capital's Jingle Bell Ball with Coca Cola was eagerly anticipating what tunes Martin would play.
Bringing out the stunning Bebe Rexha for one of 2016's biggest tunes 'In The Name Of Love' was an incredible way to end his set and bring the entire #CapitalJBB to a close – we couldn't have asked for more from this electronic music legend.
You can relive his amazing #CapitalJBB set by clicking play on the video below – prepare to be immersed in to an absolute rave right from the word go!
Martin Garrix played a number of massive tunes during his set and with the accompaniment of Bebe Rexha right at the end, showed why he's one of the top DJs in the world.
Martin Garrix – Jingle Bell Ball 2016 Setlist
Martin Garrix & Bebe Rexha 'In The Name Of Love' Lyrics
If I told you this was only gonna hurt
If I warned you that the fire's gonna burn
Would you walk in?
Would you let me do it first?
Do it all in the name of love
Would you let me lead you even when you're blind?
In the darkness, in the middle of the night
In the silence, when there's no one by your side
Would you call in the name of love?
In the name of love, name of love
In the name of love, name of love
In the name of, in the name, name
In the name, name
If I told you we could bathe in all the lights
Would you rise up, come and meet me in the sky?
Would you trust me when you're jumping from the heights?
Would you fall in the name of love?
When there's madness, when there's poison in your head
When the sadness leaves you broken in your bed
I will hold you in the depths of your despair
And it's all in the name of love
In the name of love, name of love
In the name of love, name of love
In the name of, in the name, name
In the name, name
I wanna testify
Scream in the holy light
You bring me back to life
And it's all in the name of love
I wanna testify
Scream in the holy light
You bring me back to life
And it's all in the name of love
In the name of love, name of love
In the name of love, name of love
In the name of, in the name, name
In the name, name, in the name of
In the name, name, in the name of