Macklemore & Ryan Lewis Talk Grammy Awards 2014 Predictions:"Kendrick Lamar Should Win"
8 January 2014, 12:36 | Updated: 8 January 2014, 12:37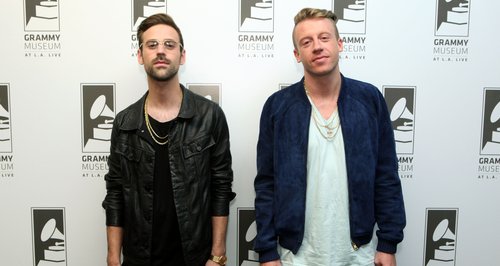 The 'Same Love' pair have opened up about being nominated for seven awards at the ceremony this month.
Macklemore & Ryan Lewis have opened up about their chances of winning at the Grammy Awards 2014 later this month, and say they think Kendrick Lamar should take Best Rap Album despite also being nominated in the same category.
The 'Thrift Shop' duo scored huge success in 2013 with their album 'The Heist' and a string of single success, and they are now nominated across seven categories for this year's music industry awards show.
"We're up against Kendrick [Lamar] who made a phenomenal album," Macklemore revealed in the January issue of The Source. "If we win a Grammy for best Rap Album, hip-hop is going to be heated.
"In terms of [Best Rap Album] I think it should go to Kendrick, he's family," the rapper explained. "I understand why hip-hop would feel like Kendrick got robbed [if he didn't win].
"I think you can make an argument for both [of us]," he continued. "With that being said, I am a huge supporter of what Kendrick does, and because of that I would love to win in a different category.
"We obviously had massive success on commercial radio, and I think that, in ways, 'The Heist' was a bigger album but Kendrick has a better rap album," Macklemore added.
Macklemore & Ryan Lewis are up for seven Grammy awards this year across categories including Album Of The Year, Best New Artist and Song Of The Year for 'Same Love'.