Louis Tomlinson Praised For Positive Attitude Towards Male Emotions On X Factor
24 October 2018, 11:05 | Updated: 24 October 2018, 11:11
Louis Tomlinson has been labelled as a role model after showing his sensitive side and supporting his male act's tears on X Factor.
Louis Tomlinson kept One Direction fans happy by hugging Liam Payne on The X Factor recently, but now he's being praised widely for his attitude towards the emotions and tears his male acts have shown on the show.
> Louis Tomlinson Involved In Twitter Argument After Revealing Album Update
He's cried a number of times himself and Louis' reaction to the likes of Anthony Russell bursting into tears at the news he'd made it through to the live finals has been praised on social media.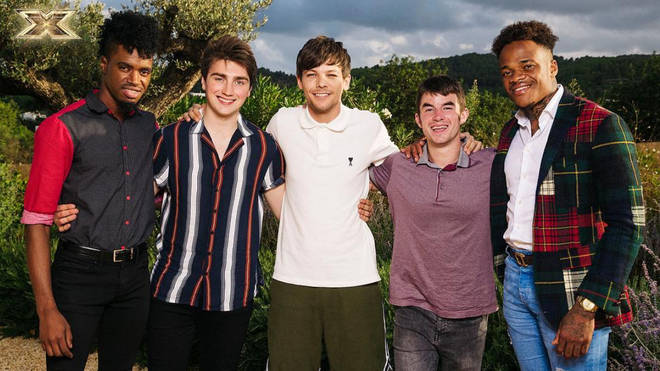 Writing about Louis on Twitter, comedian Felicity Ward said, 'An out of the blue earnest tweet: Many of @Louis_Tomlinson 's male singers throughout @TheXFactor have cried, and not once has he told them not to, to hold it in, or try to make it better.'
Felicity went on to say, 'He's just hugged them & let them be. May we all be like Louis to the men in our lives' and we couldn't agree any more tbh.
Louis has regularly showed his support for his acts on social media and you can see on the show that he's built a solid and genuine relationship with each one of them.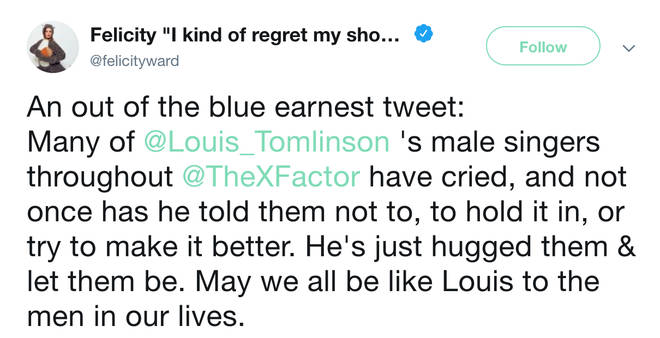 After being publically praised for his attitude towards men showing their emotions, Louis' fans threw their support behind the 'Miss You' star and one fan revealing that even the artists Louis has previously worked with have spoken about his good nature.
@LT_wins wrote, 'Artists who have worked with Louis like @steveaoki and @BebeRexha speak about how genuine, kind and down to earth he is. Armstrong from the show called him PURE. Glad people are seeing the truth about him.'
With the stigma around mental health being removed day-by-day and more men realising it's ok to show their emotions, Louis is certainly an inspiration we can all look up to.
> Want Tickets To Capital's Jingle Bell Ball Before Anyone Else? Download Our App Now To Access Pre-Sale!