WATCH: Liam Payne Reveals #OneDirectionReunion Plans In Surprise German Video
17 April 2018, 10:56 | Updated: 17 April 2018, 11:02
Liam has spoken openly about his desires for a 1D show in the future and revealed that all the lads have been speaking about getting back together for a HUGE performance.
First of all, let's get this straight. We love all the One Direction guys' solo music and feel genuinely proud at how well they've all done with their brilliant singles/albums. However, we absolutely can't wait for the lads to get back together and slay with a 1D show.
Luckily for us then, it appears that the guys have certainly got a One Direction reunion in mind as Liam has revealed he's spoken about it with the rest of the band.
> Harry Styles Fans Made The Most Beautiful LGBTQ Gesture During His Live Show

Talking to a German media outlet, Liam explained, "I think it will happen at some point in the distant future. We've spoken about it and you know, the dream for this most fantastic show that could be is amazing."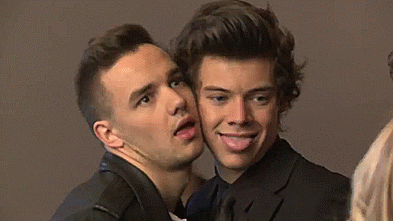 GIF: Giphy
He added, "This part now is so important for us to be able to make that show and it's the only way really that One Direction could get any bigger. It's the only way we could get more successful really isn't it?"
Naturally, after Liam's interview started spreading online, fans could barely contain their excitement and the hashtag #OneDirectionReunion began trending almost instantly..
Mood
#OneDirectionReunion pic.twitter.com/1Oy0f2Lr7p

— Paola Garcia (@paola_garcia340) April 16, 2018
#OneDirectionReunion
me opening up Twitter thinking the fandom was messing around but ended up being true pic.twitter.com/gBl3QOKl3L

— antonia (@Dimpledhazza_) April 16, 2018
I miss them so bad #OneDirectionReunion pic.twitter.com/YWURivw8Yl

— shellie (@Shllie_lxie) April 16, 2018
Me after Liam confirming that One Direction is going to be back #OneDirectionReunion pic.twitter.com/4ACLvmaORT

— E M I (@Emiii1993) April 16, 2018
They promised to come back
We Promised To Stay#OneDirectionReunion pic.twitter.com/KnvTiND64f

— Rara Azayn (@AzaynRara) April 16, 2018
So when you say "the distant future" Liam, can that maybe mean like 2019 or something? We've been sat on the edge of our seats so long we're starting to get numb buns hun!
> Download Our Free App For All The Latest One Direction Chat!
Whilst you're here, check out what Liam had to say about 1D winning Capital's Best Fans...