The Truth Behind Katy Perry's Lawsuit With A Nun That Died
12 March 2018, 17:50
The sad news emerged that one of the nuns caught in the legal battle with the pop star dropped dead in the courtroom.
The 'Roar' singer has been locked in a legal battle with some nuns (who are definitely NOT fans of the Katy's music) ever since she tried to purchase their former convent in Los Angeles aaaaall the way back in 2015.
Perry agreed to buy the property for over £10 million, but her offer was rejected by the nuns who basically think she's way too raunchy to inhabit their former place of worship.
One nun told the LA Times: ''I found her videos and if it's alright to say, I wasn't happy with any of it.''
Awks.
Instead, they decided to sell it to a local restaurant owner for only £32,000 in a bid to stop the singer.
Turns out, they didn't actually have the right to sell the property and Katy was awarded a whole lot of money in compensation AND she still very much plans to move in!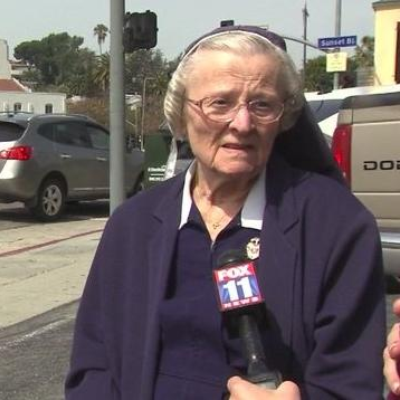 Picture: Twitter/ Fox 32 News
Sister Catherine Rose Holzman, 89, was in court to challenge Katy's attempted purchase when she collapsed and died.
Just hours before the nun died, she spoke to a TV station and said: "To Katy Perry, please stop. It's not doing anyone any good except hurting a lot of people."
Katy had even visited the nuns to try to persuade them she is a religious woman, reportedly singing them a hymn and letting them see her Jesus tattoo!
If the nuns looked into Katy's past, they would realise that she was actually brought up in a very religious community- she started off singing in the church! Her Dad is a pastor! Did they never watch her movie Part Of Me?!
Fancy keeping up to date with all the latest news and music from K-Pez? Then Download our app!
Whilst you're here why not watch Katy keeping it real in this vid