WATCH: Katy Perry Changed Her 'Swish Swish' Diss Lyrics About Taylor Swift To Something Completely Different
14 June 2017, 17:14 | Updated: 14 June 2017, 17:17
She's really serious about ending this feud isn't she?!
It is official...a feud that was has been going on for years now finally looks like it might be coming to an end (well, if you've been keeping up with Katy Perry that is).
WATCH: "I've Made Mistakes" - Katy Perry Opens Up And Apologises For Cultural Appropriation Live
Katy included 'Swish Swish' in her YouTube livestream performance and fans were quick to point out the change in lyrics...
The line, "Don't you come for me." was changed to "God bless you on your journey, oh baby girl."
Katy has repeatedly used the phrase "God bless her on her journey" when asked about the feud in other interviews leading people to believe this change in the lyrics was truly intentional & directed towards Tay Tay.
Katy Perry's Witness: The Tour 2017/18 – Find Out Exactly When & Where She'll Be Performing
When asked about the feud before her performance, she said, "I'm ready to let it go. Absolutely, 100 per cent," Katy revealed "I forgive her, and I'm sorry for anything I ever did, and I hope the same from her… There are bigger fish to fry, and there are bigger problems in the world.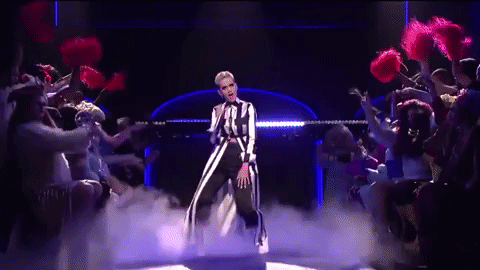 via GIPHY
Adding, "I think that if we both, her and I, can be representatives of strong women that come together despite their differences, I think the whole world is going to go, like, 'Yeah, we can do this.'"
Roman Kemp was lucky enough to catch up with the 'Witness' star to make a #KatyCat's dream come true!