Rihanna And Katy Perry Reunite For Night Out To Celebrate Unveiling Of New Song 'Roar'
13 August 2013, 11:34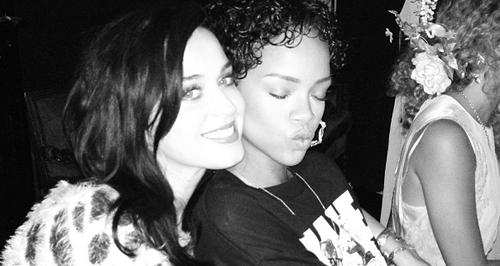 The 'Diamonds' star stopped by Katy's party in the Big Apple to show her support for the star's music.
Rihanna and Katy Perry cemented their friendship last night after the Bajan superstar turned up to support Katy at a party in New York City to celebrate the release of her new single 'Roar'.
The 'Where Have You Been' singer was a surprise arrival to the pre-release party for Katy's third studio album 'Prism', and the two looked to be having a great time in the Big Apple after sharing a snap of Rihanna sat on Katy's lap.
The party came shortly after the 'Califronia Gurls' singer turned out to a fan event to promote newly unveiled single 'Roar' from the back of a 18-wheeler golden truck.
Katy made time to stop and chat with fans at the promotional event in the Big Apple, dressed up in a blue satin jacket emblazoned with the official artwork for the song, over the top of an eye-catching red velvet dress.
Check out a picture of Katy Perry's outfit from the afternoon of promotion below:
"She. X She. #KatyAnna #RIHunited," Rihanna tweeted later on in the evening, after getting to catch up with good friend Katy at the party.
Check out a picture of Rihanna leaving the pre-release album party for 'Prism' below:
The 'Diamonds' singer has recently returned to New York after a short holiday break back in Barbados, while she resumes her current world tour next month.
Katy Perry releases new song 'Roar' in the UK on 8th September with the album 'Prism' following on 22nd October.