Katy Perry Launches 'Prismatic' 2014 World Tour And Reveals Song Setlist
8 May 2014, 11:50 | Updated: 8 May 2014, 12:20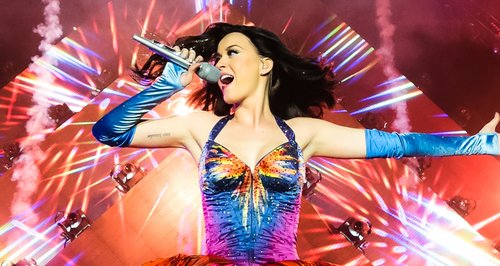 The 'Firework' star reveals all the songs she performs on her brand new tour.
Katy Perry launched her long-awaited 'Prismatic' 2014 world tour last night (7th May) providing fans with a hit-ladden set and several eye-catching set pieces and costumes.
The 'Part Of Me' star has also revealed the full setlist for her new world tour, while pictures have emerged showing Katy in outfits ranging from a large firework-themed dress to a furry catsuit inspired by her Kitty Purry persona.
The 'Prismatic' tour is also split into several different segments named after the theme Katy uses in each one, including Egyptian, Cat-ourve and Hyper Neon.
Check out the full Katy Perry setlist posted on her Instagram account below: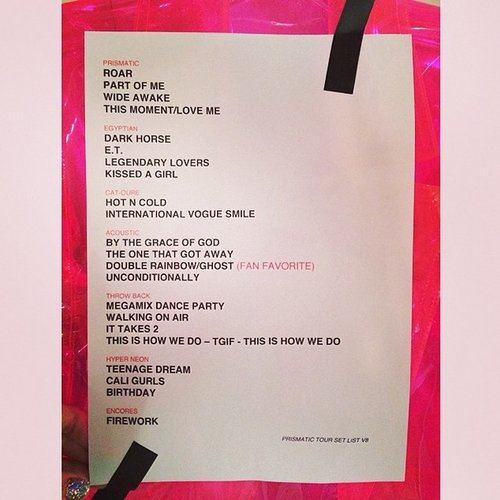 Katy Perry's 'Prismatic' tour continues with a second show in Belfast tonight (8th May), before going on to shows across Nottingham, Birmingham, Newcastle, Glasgow, Manchester, Liverpool, Sheffield, and London over the course of this month.
Check out the full setlist for Katy Perry's Prismatic World Tour 2014 below:
'Roar'
'Part Of Me'
'Wide Awake'
'This Moment'/'Love Me'
'Dark Horse'
'E.T.'
'Legendary Lovers'
'I Kissed A Girl'
'Hot N Cold'
'International Vogue Smile'
'By The Grace Of God'
'The One That Got Away'
'Double Rainbow'/'Ghost'
'Unconditionally'
'Megamix Dance Party'
'Walking On Air'
'It Takes 2'
'This Is How We Do'/'Last Friday Night (T.G.I.F.)'
'Teenage Dream'
'California Gurls'
'Birthday'
'Firework'
You may also like: