JP Cooper - 'September Song' (Live At The Summertime Ball 2017)
10 June 2017, 21:00
JP Cooper put on a vocal performance to remember as he treated us to a stunning performance of his huge hit 'September Song'.
It's been an incredible year so far for JP Cooper. He dominated the chart alongside Jonas Blue on the massive 'Perfect Strangers' and went on to win even more fans with his solo material too.
'September Song' has achieved over 1.3 million sales worldwide, proving that fans are absolutely loving the sounds of JP! The singer songwriter has even picked up some fans in the shape of Stormzy and Shawn Mendes, so who knows if we might see a collab or two after all three made an appearance at the #CapitalSTB.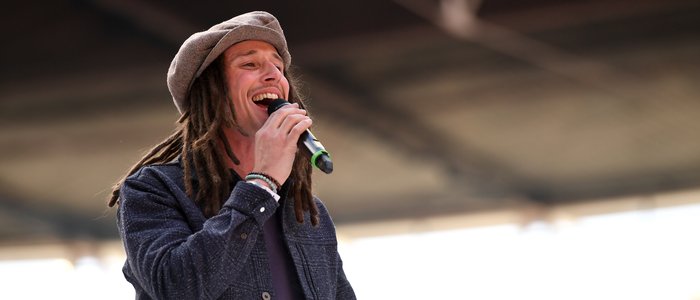 Even though his debut studio album 'Raised Under Grey Skies' isn't out until September (ironically), he's already cemented himself as a huge talent in the UK scene and if his #CapitalSTB performance is anything to go by, he's gonna be wowing crowds with his tunes for a long time yet!
Weren't lucky enough to attend the ball? Never fear - you can catch up with JP Cooper's stunning set via the video above. Not a bad way to make your #CapitalSTB debut!
JP Cooper – Summertime Ball 2017 Setlist
September Song
Perfect Strangers
JP Cooper 'September Song' Lyrics
Our love was strong as a lion
Soft as the cotton you lie in
Times we got hot like an iron
You and I
Our hearts had never been broken
We were so innocent darling
We used to talk 'til the morning
You and I
We had the mixtape on every weekend
Had it repeating, had it repeating
You were my September song, summer lasted too long
Time moves so slowly, when you're only fifteen
You were my September song, tell me where have you gone?
Do you remember me, we were only fifteen
And I, I remember the chorus, they were singing it for us
You were my September song, tell me where have you gone?
Do you remember me, we were only fifteen
Sometimes I think that I see her
Face in the strangest of places
Down on the underground station
Passing by
I get a mild sense of danger
Feel like my heart couldn't take it
'Cause if we met we'd be strangers
You and I
Still I play that mixtape every weekend
Got it repeating, got it repeating
You were my September Song summer lasted too long
Ooh, time moves so slowly (so slowly) when you're only fifteen
You were my September song, tell me where have you gone?
Do you remember me, we were only fifteen
And I, I remember the chorus, they were singing it for us
I hear that September Song and I'm singing along
Thinking 'bout you and me, oh what a melody
And as the years go by, you will still be mine
Be my (September song)
You are my (September song)
You were my September Song summer lasted too long
Time moves so slowly when you're only fifteen
You were my September song, tell me where have you gone?
Do you remember me, we were only fifteen
And I, I remember the chorus, they were singing it for us
You were my September Song
I remember the chorus, they were singing it for us