JP Cooper - 'Perfect Strangers' (Live At The Summertime Ball 2017)
10 June 2017, 20:58
JP Cooper made sure the #CapitalSTB was a party to remember when he took to the stage to perform 'Perfect Strangers'!
When JP Cooper's immense vocals were paired with Jonas Blue's dancefloor-filling production, it was only ever going to be one thing – a MASSIVE hit.
'Perfect Strangers' was the song that helped JP Cooper break through into mainstream consciousness and seeing him belt it out with his powerful voice literally gave us chills! JP couldn't take the smile off his face as he stepped out onto the Wembley stage for the first ever time and the crowd absolutely loved him.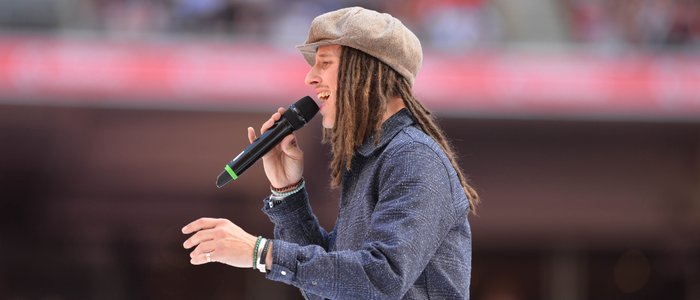 He's obviously gone on to release solo music in the shape of 'September Song', but it seems that this song will always hold a special place in JP Cooper's heart and the hearts of 80,000 people at Wembley too.
Didn't make it to the ball this year? That's ok - you can catch up with JP Cooper's memorable set by checking out the video above. What way to make your #CapitalSTB debut!
JP Cooper – Summertime Ball 2017 Setlist
September Song
Perfect Strangers
JP Cooper 'Perfect Strangers' Lyrics
You were looking at me like you wanted to stay
When I saw you yesterday
I'm not wasting your time, I'm not playing no games
I see you
Who knows the secret tomorrow will hold?
We don't really need to know
Cause you're here with me now, I don't want you to go
You're here with me now, I don't want you to go
Maybe we're perfect strangers
Maybe it's not forever
Maybe the night will change us
Maybe we'll stay together
Maybe we'll walk away
Maybe we'll realize
We're only human
Maybe we don't need no reason
Maybe we're perfect strangers
Maybe it's not forever
Maybe the night will change us
Maybe we'll stay together
Maybe we'll walk away
Maybe we'll realize
We're only human
Maybe we don't need no reason
Why
Come on, come on, come over
Maybe we don't need no reason
Why
Come on, come on, come over
No one but you got me feeling this way
There's so much we can't explain
Maybe we're helping each other escape
I'm with you
Who knows the secret tomorrow will hold?
We don't really need to know
Cause you're here with me now, I don't want you to go
You're here with me now, I don't want you to go
Maybe we're perfect strangers
Maybe it's not forever
Maybe the night will change us
Maybe we'll stay together
Maybe we'll walk away
Maybe we'll realize
We're only human
Maybe we don't need no reason
Maybe we're perfect strangers
Maybe it's not forever
Maybe the night will change us
Maybe we'll stay together
Maybe we'll walk away
Maybe we'll realize
We're only human
Maybe we don't need no reason
Why
Come on, come on, come over
Maybe we don't need no reason
Why
Come on, come on, come over
Maybe we're perfect strangers
Come on, come on, come over
Maybe we don't need no reason
Why
Come on, come on, come over