Jessie J Eyes Ed Sheeran Collaboration On New Album 'Alive' Repackage
24 September 2013, 12:28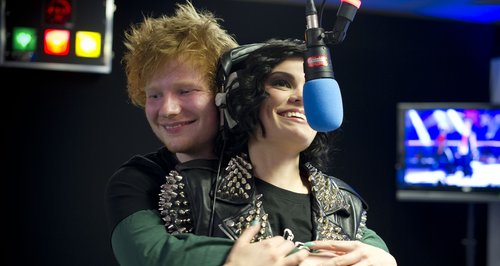 The 'Domino' star admits she is really keen on recording a track with the 'Lego House' man.
Jessie J has confessed that she wants to record a collaboration with Ed Sheeran for a repackage of her new album 'Alive'.
The 'Who You Are' singer told Digital Spy that she keeps iTunes playlists of tracks that never make the final cut of her records.
"In my iTunes I've got playlists and one's like, 'Never play, never use, never let anyone hear'. Then there's the 'Random songs' and then there's 'Repack'," she said. "Hopefully I want to do a repackage, because there's a song I really want to do with Ed Sheeran.
She added: "I keep messaging him, but he's so busy. I'm like, 'C'mon Ed - let's take it back to the days when it was me and you on Old Street doing an urban gig'".
Jessie released new album 'Alive' this week, and last night she performed at the iTunes Festival 2013.