Jax Jones – 'Instruction' (Live At The Jingle Bell Ball 2017)
9 December 2017, 21:03 | Updated: 10 December 2017, 09:18
Everyone in The O2 was dropping down low when Jax Jones dropped this banger!
Taking to the stage in his trademark ???, Jax Jones looked every inch the #CapitalJBB superstar performer and his performance certainly lived up to the hype.
'Instruction' was one of the biggest songs of 2017 and Jax had the whole crowd (and we really do mean every single person) partying from the moment he dropped the absolute anthem.
If there's a bigger way to kick off your set, we'd like to see it because this was one seriously momentous opening from one of the year's stand out artists.
Jax Jones Jingle Bell Ball 2017 Setlist
'I Got You' ft Kelli-Leigh
'House Work', 'Seven Nation Army', 'Gold Digger' Mash-Up
'Instruction'
'You Don't Know Me' ft Raye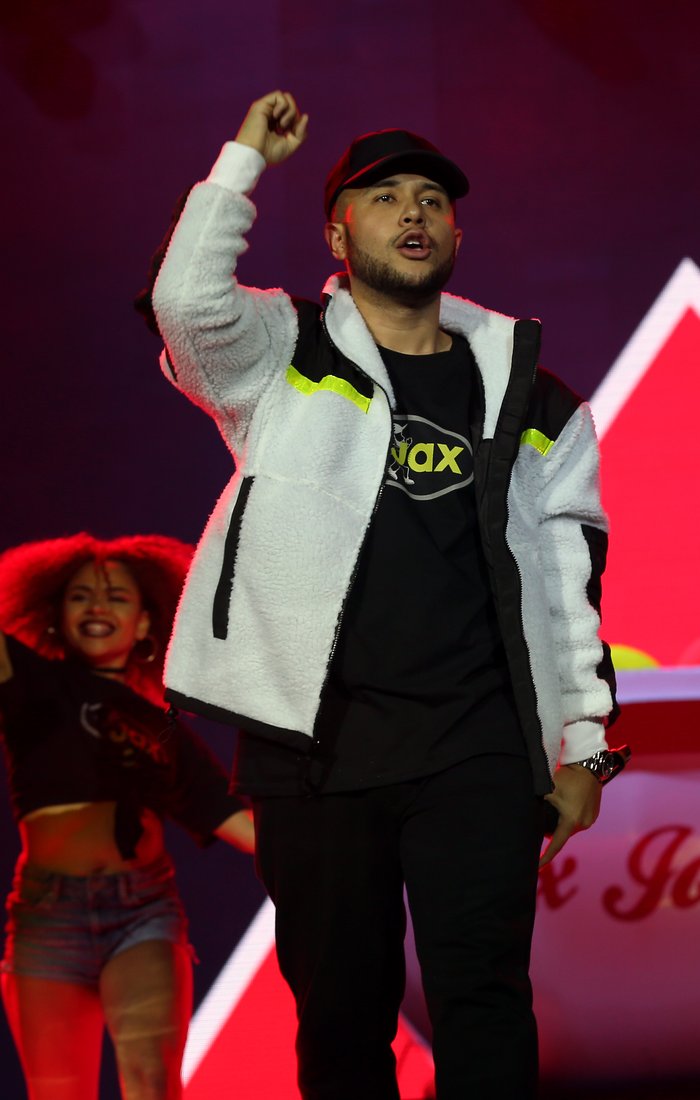 Jax Jones 'Instruction' Lyrics
All my ladies
What you gon' do?
All my ladies
Wine to the left, sway to the right
Drop it down low and take it back high
B***h, I don't need introduction
Follow my simple instruction
Wine to the left, sway to the right
Drop it down low and take it back high
B***h, I don't need introduction
Follow my simple instruction
You see me I do what I gotta do, oh yeah
On the guest list, no need to cue, oh yeah
Me and my crew, we got the juice, oh yeah
So come here, let me mentor you, well
Some say I'm bossy 'cause I am the boss
Buy anything, I don't care what it cost
Stacked like casino, Armani, Moschino
If you're the supreme then I'm Diana Ross
All my ladies
Wine to the left, sway to the right
Drop it down low and take it back high
B***h, I don't need introduction
Follow my simple instruction
Wine to the left, sway to the right
Drop it down low and take it back high
B***h, I don't need introduction
Follow my simple instruction
Step one
Report to the dance floor when I say, oh yeah
Step two
Tell mom you'll be out till late, oh yeah
Step three
Pull up your bumper, cock up your waist, oh yeah
Step four
Grab somebody, now face to face and say
Say that you're bossy 'cause you are the boss
Buy anything, you don't care what it costs
Stacked like casino, Armani, Moschino
If you're The Supreme then I'm Diana Ross
All my ladies
Wine to the left, sway to the right
Drop it down low and take it back high
B***h, I don't need introduction
Follow my simple instruction
Wine to the left, sway to the right
Drop it down low and take it back high
B***h, I don't need introduction
Follow my simple instruction
Yo, see me 'av everyting what you want, put it pon me
They dunno the realest star 'cause she don't play
They say I'm loco when me do me thing
Gyal haffi back up, back up pon it
Gyal haffi stack up, stack up pon it
(All my ladies) bad gyal, bad gyal
'Nuff a dey ting, 'nuff a dey ting, say enough a dey ting
Bad gyal, bad gyal, mashin' up di ting
Mash up the di ting pon 'em
Say that you're bossy 'cause you are the boss
Buy anything, you don't care what it costs
Stacked like casino, Armani, Moschino
If you're The Supreme then I'm Diana Ross
All my ladies
Wine to the left, sway to the right
Drop it down low and take it back high
B***h, I don't need introduction
Follow my simple instruction
Wine to the left, sway to the right
Drop it down low and take it back high
B***h, I don't need introduction
Follow my simple instruction
B***h, I don't need introduction
Follow my simple instruction
Bitch, I don't need introduction
Follow my simple instruction