Iggy Azalea Turned Down A Previous Collab With Ariana Grande Because She Was Too Young!
1 September 2014, 10:23 | Updated: 1 September 2014, 16:37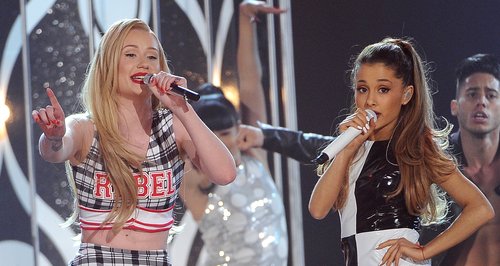 Iggy reveals that she could have worked on Ariana's first album, but she thought her music was too "risqué" for Miss Grande
Iggy Azalea and Ariana Grande's team up on 'Problem' is nothing short of AMAZING, but Iggy has revealed that she previously turned down an opportunity to work together.
Iggy explained that she didn't realise Ariana was actually closer to her age than she looks – Iggy is 24 and Ariana is 21 – and thought her songs would be too "risqué" for the Disney princess.
She told The Grammys, "She reached out to me for her first album and I didn't do it even though I thought she was amazing, because I thought she was much younger than what she is."
"When I realised she was so close to my age, I was like, 'Wait you're an adult!'"
"I felt that my music was kind of so risqué and I knew she had a Disney show... I didn't feel like it was appropriate but then I actually met her and I found out that she's a grown-up and I was like 'Oh ,OK!'"
And thankfully the collaboration happened in spectacular style with their sixties inspired hit song 'Problem' for Ariana's second album 'My Everything', which is out now.
You May Also Like…