Jessica Ennis Celebrates Gold Medal With Example At The Stone Roses Secret Gig
7 August 2012, 11:09 | Updated: 7 August 2012, 11:13
Fellow Team GB star Bradley Wiggins also joined a host of big celebrities at the surprise concert in London.
Jessica Ennis joined Example as she celebrated her incredible win in the London 2012 Women's Heptathlon at a surprise gig last night (6th August).

The pair were just two of the celebrities who attended a secret performance by The Stone Roses in the capital.

Jessica and Example were all smiles as they posed for a picture together on the red carpet ahead of the gig, which came in the middle of The Stone Roses' reunion tour.

Example later tweeted a picture of him holding Jessica's gold medal, and in a message on Twitter this morning (7th August) he joked about the accolade.

"Last night I held an Olympic Gold Medal and I can confirm they are just big chocolate coins," he wrote.

Example holds Jessica Ennis' Heptathlon gold medal at The Stone Roses' secret gig: (picture: Twitter)


Team GB's Bradley Wiggins, who won the gold medal in the Men's Individual Time Trial, also attended the gig, and posed for a picture with former The Jam star Paul Weller.

Bradley and Jessica were also pictured alongside The Stone Roses, Jimmy Page and The Clash's Mick Jones backstage before the concert.
It has been reported that The Stone Roses' frontman Ian Brown acknowledged Jessica and Bradley's gold medal-winning performances during the gig, referring to them as the King and Queen of England.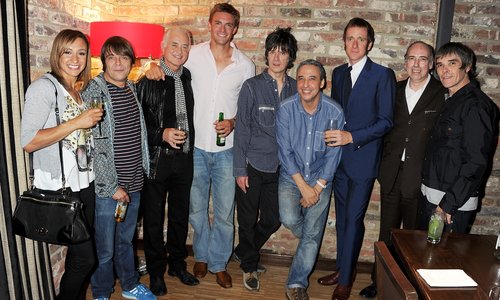 Meanwhile, Example has become the latest named added to the line-up for the iTunes Festival 2012.
The 'Stay Awake' star will be joined by DJ Fresh and Hadouken on Monday 17th September when he takes to the stage at the Roundhouse in Camden, London.