Dua Lipa - 'Hotter Than Hell' (Live At The Jingle Bell Ball 2016)
4 December 2016, 12:37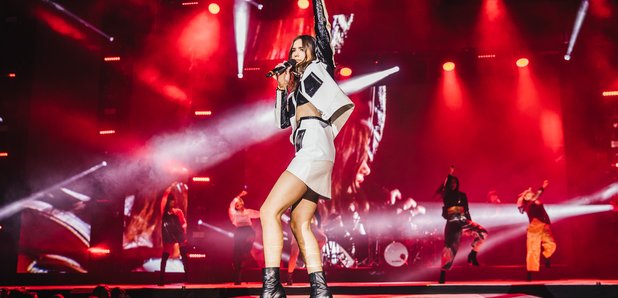 If you can dominate the #CapitalJBB stage like Dua Lipa did, you know you're onto something special!
Dua Lipa made her first ever performance at Capital's Jingle Bell Ball with Coca-Cola look like a walk in the park and the crowd were loving every second.
She's become a big star over the last twelve months and Dua made sure that she used her time on London's O2 Arena stage to really impress everyone with her incredible vocals – dressing to impress too!
Whilst still early on in her fledgling music career, Dua Lipa is an artist firmly on the rise and 2016 has seen her work with another #CapitalJBB performer Sean Paul for the first time. After this superb set, we're sure there'll be many more people looking to work with her very soon.
You can relive Dua's amazing #CapitalJBB performance by clicking play on the video below – beware cos she's bound to blow your mind!
As well as 'Hotter Than Hell', Dua Lipa played a few more massive tracks and firmly justified her tag as one of 2016's standout artists
Dua Lipa – Jingle Bell Ball 2016 Setlist
'Blow Your Mind' (Mwah)
'One Dance' (Drake cover)
'Hotter Than Hell'
Dua Lipa 'Hotter Than Hell' Lyrics
He calls me the devil
I make him wanna sin
Every time I knock, he can't help but let me in
Must be homesick for the real
I'm the realest it gets
You probably still adore me
With my hands around your neck

Can you feel the warmth? Yeah
As my kiss goes down you like some sweet alcohol
Where I'm coming from, yeah
It's the darker side of me that makes you feel so numb

Cause we're hot like hell
Does it burn when I'm not there?
When you're by yourself
Am I the answer to your prayers
I'm giving you that pleasure heaven
And I'll give it to you

Hotter than hell
Hotter than hell

You're my manna from heaven
We all gotta get fed
Can let me know I'm wanted
Can let me in your head
I'm not here to make you kneel
But it's praise that I'll get
You ain't gonna walk free boy
Not finished with you yet, no

Can you feel the warmth? Yeah
As my kiss goes down you like some sweet alcohol
Where I'm coming from, yeah
It's the darker side of me that makes you feel so numb

Cause we're hot like hell
Does it burn when I'm not there?
When you're by yourself
Am I the answer to your prayers
I'm giving you the pleasure of heaven
And I'll give it to you

Hotter than hell
Hotter than hell

When we go down right there
You make me feel right there
When you lay me down right there
We just make it right there
Cause you're looking so right there
Baby you should touch me right there
You can take me right there
We can make it

Cause we're hot like hell
Does it burn when I'm not there?
When you're by yourself
Am I the answer to your prayers
I'm giving you that pleasure heaven
And I'll give it to you

Hotter than hell
Hotter than hell
Hotter than hell
Hotter than hell
And I'll give it to you
Hotter than hell